Hey everyone!
When I think of Cage I think of the awesomeness of Sean Peck's vocals and the fact he is a fellow Charger fan. This album brings back a lot of memories. When this came out I had Sean on my show for the first time. It was an epic interview and as people we hit it off well. We not only love the same football team, we are both singers and of course we live and breathe heavy metal. Cage is the epitome of what this means. Looking back on it when you think of vocalists Sean really has never received the recognition he actually deserved. He is on par with the best of the metal screamers out there. In fact ability wise he is on par with Rob Halford in his prime, Ralf Scheepers, Ripper Owens or anyone else out there. The man simply hits notes you didn't even think existed. Sure he has done some killer stuff like singing with Deathdealer and of course the Denner/Sherman project which shows Sean is getting some mad respect finally but I for one put him in legendary status with some of the best vocalists in heavy metal.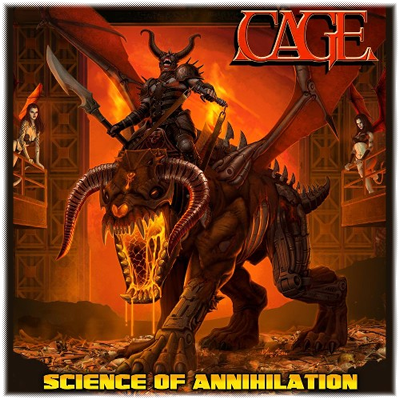 There is a reason I picked this album. For one, it is my favorite Cage album although Supremacy of Steel comes close. This was also my first ever Cage album. From the moment you hear Sean scream at the beginning of Planet Crusher you know this album just screams metal. The title track, Scarlet Witch and Stranger in Black are also some highlights on this album.
As Cage singer Sean Peck says about the album "Science is my favorite Cage record to date. It kicked the intensity into another gear but still held on to the Cage melodic magic."
I agree. Sean is a monster on this album with his vocals and the entire band is on point. This is the album that in my book really brought the band into the spotlight. I know that previous releases also helped do that but when this came out you really saw the metal world get taken by storm. People started taking notice of this band and this album is a big reason why. I am living proof of this because until this came out I had absolutely no clue who these guys were. I am glad I do though but since then members of Cage and Sean have kicked ass in some other killer projects. If you have never listened to this band before this is a good album to start with. It's all here, awesome lyrics, killer songwriting and amazing vocals that any metalhead would be proud to listen to!
-Tony Webster 2/26/2017