Simply put. This show has been on the air for almost 25 years. I do this for the love of the music and as a thank you to all of the musicians and artists that work their asses off to produce the awesome music that they put out.
In the modern day the promotion of lesser known artists has become harder. More and more bands have appeared on the scene and so many more people not only follow the mainstream but the internet has dilluted things to the point that it is very difficult for some of the lesser known bands and even the more well known metal bands out there to get their music out to the world. In the world of modern commercial radio the human element has been removed in favor of streaming media from some other city, commercial radio has effectively killed the DJ and human element which made radio and broadcasting so awesome. However, that human element has never left on this show and never will. Welcome to The Metal Command!
The Metal Command Show started back in 1998 when I was a student at Baldwin Wallace College. I named the show after one of my favorite thrash metal bands of all time, Exodus. Since then the show has garnered quite a following among metalheads worldwide. The show was continued when I left school. It has featured many great metal bands both very underground to very big name bands.
I live for this music, and in fact, this type of music has moved me more than anything in this universe. This is something that I love to do as a big thank you to all of the musicians who really work hard to make this type of music, and speaking from the musician's standpoint myself (I am a musician by the way), many bands don't really get the credit, exposure or props that they really deserve. Doing this show is one way to help the metal scene and help preserve the interest in this music for future generations. This is not something I do to "further myself", this is something I do to thank all of the metal musicians out there for their hard work and dedication to the music that myself and millions of others love.
I have also geared the show more towards the underground bands. I usually love to feature bands who may not be that well known here in the USA. Most of these bands are established, have great musicianship, great songs, good production and they are professional. However, these same groups just never get the recognition they deserve. So I have made it a personal mission to seek these types of bands out and to help them any way I can. The show has also morphed into the Metal Command Podcast. This is seperate from the radio show and is a talk show about everything Metal.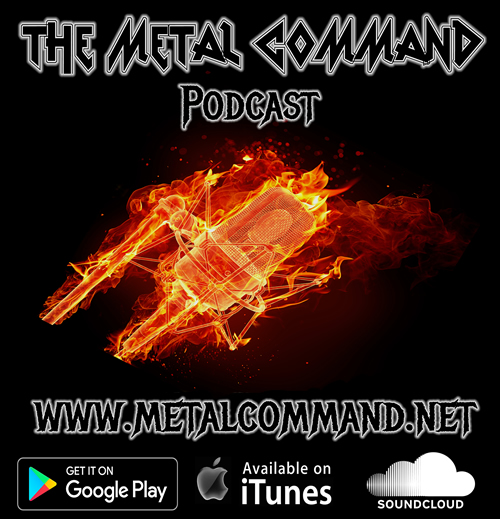 Many bands have appeared on the show over the years so here's a pretty good rough list of bands who have been interviewed on the show although there have been many more, Over the years I have lost track of who exactly has been on the show! (In Alphabetical Order): Accept, Angel Dust, Angra, Annihilator, Anthrax, Anubis Gate, Armored Saint, Artillery, Arch Enemy, At No End, Avantasia, Avalon, Ayreon, Axxis, Biastfear, Black Sabbath, Blaze Bailey, Blind Guardian, Bloodbound, Blotted Science, Brainstorm, Bruce Dickinson, Cage, Cellbound, Chris Caffery, Coroner, Circle II Circle, Communic, Creation's End, Cyris, DC Cooper, David Readman, Deadiron, Death Dealer, Death Angel, Dio, Dirty Deeds, Disturbed, Doro Pesch, Dream Theater, Edguy, Empires of Eden, Eternal Legacy, Exodus, Falconer, F5, Fear Factory, Flotsam & Jetsam, Gamma Ray, Grave Digger, Grip Inc., Halford, Hammerfall, Hatriot, Havok, Heathen, Helloween, Iced Earth, Imagika, Indestructable Noise Command, Ion Vein, In Flames, Iron Maiden, Iron Savior, Ivory Tower, Jack Starr, Jaded Heart, Jag Panzer, Jon Oliva, Judas Priest, Kamelot, Labyrinth, Lanfear, Leprous, Lick The Blade, Leatherwolf, Liege Lord, Lions Share, Luca Turilli, Manowar, Masterplan, Megadeth, Metal Church, Metallica, Michael Kiske, Mnemic, Morgana Lefay, , Motley Crue, Motorhead, Nevermore, Nightwish, Nocturnal Rites, Onslaught, OverKill, Pagan's Mind, Pariah, Pharaoh, Pink Cream 69, Primal Fear, Prototype, Queensryche, Rage, Rebellion, Rhapsody, Ride The Sky, Rob Rock, Roy Z, Running Wild, Satan, Savatage, Saxon, Scanner, Sebastian Bach, Shatter Messiah, Shok Paris, Silent Force, Sinergy, Skid Row, Skyclad, Slayer, Soilwork, Sonata Arctica, Spiritual Beggars, Stratovarius, Streams of Passion, Sybreed, Symphony X, Symphorce, Testament, Tesseract, Tim Henderson (BWBK), Timo Tolkki, Trail of Murder, Unisonic, Vindicator, Virgin Steele, Venomin James, Vision Divine, W.A.S.P., Watchtower, Yngwie Malmsteen and many more!
I started listening to metal a long time ago. Back in 1985. I was all of about 8 years old and in second or third grade. I don't remember now. What I do remember is my friend Jason brought in a couple cassette tapes of Metallica's " Kill Em All" and "Ride The Lightning" and of course brought in his portable walkman cassette player. I remember hearing "Hit The Lights" and for whatever reason I was hooked. This music really moved me, especially for as young as I was at the time.

Over the years I got into a lot of great bands, mostly through tape trading because after all, you have to be 16 to get a job and earn money although I used to use part of my allowance money to buy a CD each week until I finally became employed.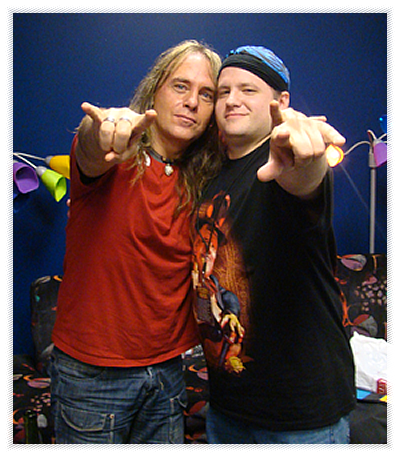 Over time I began listening to a lot of heavy metal bands, especially in high school. You also have to understand that back then, from 1992-1996 it was the height of the grunge era and metal was considered "uncool". I decided to say screw that and kept listening to it. Since that time I have explored a LOT of different bands out there in the genre.....well over 300. I am a huge collector of music, box sets, and other cool stuff. Some obscure bands and some big. High school was also the time I began my interest in being a musician. I jammed a lot with some buddies of mine but nothing much came of it.

Then in 1998 my life changed. I met the guys in Helloween. I had been a fan of this band for a long time and I had started a website as a college computer class project. The website was of course a fansite about Helloween. Eventually Michael Weikath asked me to run the band's official website and so began my career in promotion. Being a musician became secondary because around the same time is when I was doing my radio show called "The Metal Command" on 88.3 WBWC here in Cleveland (I'll get to that later though...).

I ended up learning quite a bit about promoting bands and promoting them over the internet (back then that was when the internet was sort of new and JUST starting to take off), I learned a lot about promoting a band and representing them on an international level. Also at this time a very good friendship developed between the guys in Helloween and myself. We have since become good friends and although I don't do as much as I used to with their site. I still do what I can to help them out. The influence they had on me as a person will always be with me.
I have had a great life in music. I sang in various bands over the years in the Cleveland area. I sang in the band Archetype and most recently sang on the Empires Of Eden project which can be heard here:
As of now aside from the show I am also a photographer specializing in photographing classic cars and vintage drag racing. I also shoot photos mainly on vintage film cameras. I was a columnist and main photographer for an all Pontiac car magazine called Poncho Perfection Magazine from May of 2016 to January of 2022 and left due to professional differences and to concentrate on the new podcast version of this show.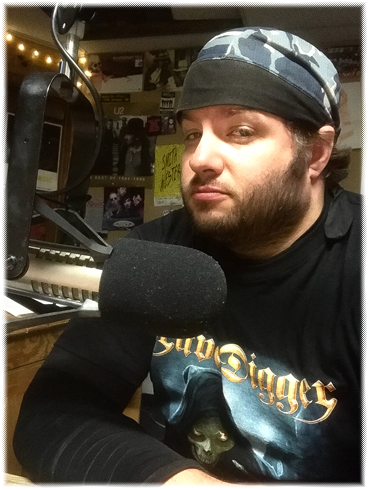 Promoting bands for the love of the music. This is what I do. This is what I love doing and I have now done this for over 20 years now. I will be doing this until I am dead because of my love of the music. Heavy Metal is more than just music, it is a music scene that has a bunch of friends who just haven't met yet. That is what our music scene is all about and it always has been. I can go halfway around the world and find someone wearing a heavy metal T Shirt and we instantly can start talking like we have been friends for years.
So there you have it, a little bit about me ladies and gentleman. This gives you a brief account of who I am and just what I do for the show. I have to say that so far it has been a blast hosting this show. I am not only part of a great metal radio scene here in the Cleveland area but I have talked to and met a lot of great people out there! The Podcast has really taken off in 2019 and I will also continue to do the podcast. It can be found on Soundcloud, Google Play and ITunes. The podcast is uncensored, honest and I bow to no corporate sponsors......its 100% authentic and from the heart. I plan on keeping the podcast this way because honesty is truly lacking in today's world and I plan on keeping that honesty here.
In the end I am excited for this new chapter of the show which has evolved a lot over the past 24+ years. It is still amazing to me the amount of great people I have been able to meet and talk to over the years and this will continue onwards.......I am just getting started....
And the story continues....
-Tony (June 2022)