Hey everyone!
This month's retro album of the month is none other than Killers by Iron Maiden. You might be wondering why I picked this album over the many others that seem to be more popular in Maiden's catalog. Well I will tell you why and go into why Killers is one of my favorite albums of all time! Most people view Maiden's greatness with Bruce Dickinson and the albums Number of the Beast through Seventh Son of a Seventh Son. Many metal fans don't even know that Iron Maiden has two albums before The Number of the Beast. I am not kidding! I have had so many people call the show over the years and ask me to play stuff of of Iron Maiden's first album "The Number of the Beast". It's pure insanity that any metal fan for that matter has no clue this album exists but unfortunately there are some that don't which is a sad case. People always forget how awesome the first two Maiden albums are with Paul DiAnno. I sure haven't!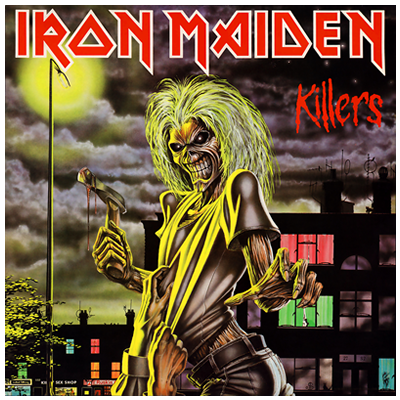 Iron Maiden is no doubt one of the most influential metal bands to ever exist. Nobody can dispute this. However, one of the things many people don't realize is that Killers was one of the most influential, especially among the many thrash metal bands like Metallica, Megadeth, Exodus, Testament, etc. In fact this is considered one of the most influential metal albums of all time even though today many people don't give it the recognition that it does indeed deserve.
Even though it didn't, and hasn't sold nearly what the later albums have after Bruce Dickinson came into the fold, Killers is still just an amazing album and one of Maiden's most unique and diverse that they have put out. Some of their fans even say it's their most creative. Obviously these opinions are subjective but I can say that regardless it is still an excellent album that often gets overlooked because of great albums like Number of the Beast or Somewhere in Time.
This was the last album with singer Paul DiAnno and was the album released right before Bruce Dickinson which is why many people forget about it. In fact some of Maiden's best songs are on this record. Many people out there are of course familiar with the song Wrathchild which has been a staple in the Iron Maiden setlist for 30+ years and of course the song Killers which was played on occasion. However, songs like Murders in the Rue Morgue, Another Life, Drifter, Purgatory (which was released as a single btw), and Prodigal Son in my opinion are as good as any other Maiden classics ever released. Not only are these songs amazing but they are often overlooked. Also, DiAnno's voice fits perfectly on these songs, he doesn't have that operatic range that Dickinson does but the man can sing, well at least he could back then. It fit so well with what Iron Maiden was doing at the time.
When I think of my favorite Iron Maiden albums this one is in my top 3, and certainly it deserves more recognition that it usually gets. If you haven't checked it out, by alll means what are you waiting for?! If you hated the album the first time because Bruce isn't on it......give this one another listen because once you do you will see what I am talking about when I say this is one of the all time classic albums in heavy metal!
-Tony Webster 1/24/2014