Hey Everyone!
So it's been an interesting year in 2011. I got a new job, had my second child, and a lot of stuff has happened to me both personally, musically and of course with the radio show.
First off I want to thank all of the listeners for being a part of the show and for listening to this show. I wouldn't be where I am without you guys. I have had a lot of great conversations with all of you on the phone and over the new via Facebook and especially through the emails you all send me each and every week!
Second, I want to thank all of the bands to have appeared on the show over the past 14 years. All of you have helped make the show what it is today and if you are reading this I hope that the show has been some help to all of you in your music careers.
This website has been in the making for close to a year now. I have taken a lot of feedback from everybody over the past year of what you would like to see on this website and what you all think this site should be. I received a LOT of emails and a lot of feedback from people with a lot of great ideas. Some of these ideas I am definitely going to use for this website and for the show. Some of them are just not feasable for me to do.
I have to say that I am glad to be at WBWC, it is a second home to me and there are many people who have met who have come and gone and some who have stayed. I can say that in the past 3 years the students I have met (Tim Obrien, Jasen Sokol, Anthony Morabith, Amy Popik, Ryan Radke, Matt Fontana, Double E and quite a few others) have been some of the coolest people I have ever met and they are either gone or they will be gone after this year and I have to say I will miss all of them greatly. I will Miss Tim and Matt at the end of the Friday Night Frenzy saying "For WBWC I'm Matt Fontana and I'm Tim Obrien.....Officer Metal, Grab the chair!" Wow what fun times!!! I am also glad to have gotten to know some of the faculty advisors and other DJs, Commander Greg, Todd Richards, John Basalla, and John Elmo I have known for 14 years now.
I am a part of something special here in the Cleveland area. We have such a great heavy metal scene here and we have something most cities don't, a healthy metal radio scene between 4 college stations. People write me every day telling me how lucky I am to live in the city where Metal gets a lot of exposure over the airwaves. I can tell you that I also feel fortunate to be a part of something like this.
A couple months back Dr. Metal (Nick Fletcher) moved his show to 5pm on Friday afternoons. Then it hit me....we have Metal for 8 hours every Friday night here in Cleveland. Where else can you find that at? Hell most places in Europe don't even have anything like this much less here in the USA. I am very proud to be a part of this with two other people who are not only good guys but who are just as passionate about heavy metal music as I am. We also do it for the right reasons.....we do it for the love of the music and spend a lot of time and effort to bring everybody who listens to us the best show possible for the fans of this music as well as the bands we feature on a regular basis. I think the strongest aspect we all share between the three of us besides our passion for metal is the fact all 3 of us have 3 distinct metal shows. If you tune in and hear what we play, and what we talk about you could never say you heard the same show three times because you won't.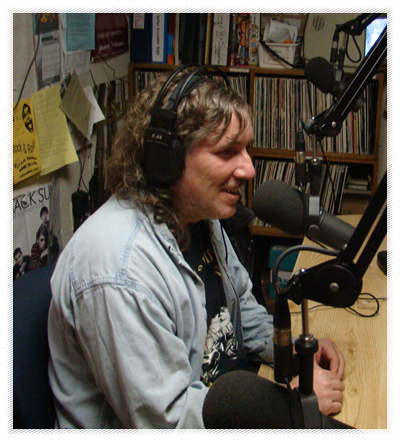 Just a quick thought about both Bill and Nick. I have gained a lot of respect for Bill over the years and have really gotten to know him. I can say you will never meet a nicer person. I remember back in 1998 I met Bill for the first time when I was hanging out with Nick on his Metal Meltdown show back in those days. I was basically a kid who loved the music and I had just started working with Helloween. Bill's show used to be on either before or after Nick's show but I don't remember as it's all a blur now. Bill has done a lot over the years in the Metal scene but more importantly he has done a lot for the community. He has taken food donations each and every year in December and has raised a lot of money to help fund WJCU. Anytime someone has been in need, even if they aren't part of the Auburn crew Bill has done what he could to help the community and other people in need. I think these are the things people like himself will never get enough recognition for and these are some of the biggest reasons I have had the utmost respect for him and the people who surround him. He has done his show for 30 years now....I have been doing mine for the better part of 14 years....and I was 4 years old when Bill started Metal On Metal. I am not saying that to make him sound old, I am saying this because it takes a lot of dedication, hard work and passion to do his show for as long as he has done it now. I can say I am proud to be a part of the metal community here in Cleveland because of people like him. Having Bill down in 2009 to interview him about Auburn records for the 25th Anniversary Show was a lot of fun and one of the best interviews I have ever been a part of.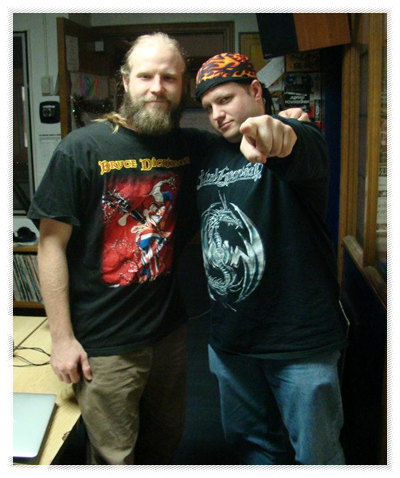 As far as Nick goes I first remember meeting him back in 1997 when he and a couple friends of mine all went down to see Bruce Dickinson play the the Odeon on his Accident of Birth tour. It was in October or November and I remember we were listening to Savatage's "Wake of Magellen" in the car on the way there. The show had only like 300 people bvut we got into the front row and really got into it! What a fun night that was. I then remember Nick asking me to come down and hang out with him as he had just started doing the Metal Meltdown show at WJCU (now he does it at WRUW). We hung out a lot for that year and being down there made me want to start my own show and soon after I did.
Nick and I were really into the Euro Metal scene back then and all of the new killer bands and releases that came out between 1995-2001
I still have fond memories of us talking on the phone about new bands, releases, crazy people we had interviewed and how they acted. I think the funniest thing ever was when I set him up with an interview with Markus Grosskopf of Helloween. Markus called into Nick's show and then suddenly Nick tells him a caller wants to talk to him. This German guy calls and starts saying all this crazy stuff to Markus. It turned out to be Tobias Sammet of Edguy/Avantasia. Markus started laughing hysterically. Wow what fun times those were back in the day. In a sense I do miss those times but wow, look at how everything has turned out. I can honestly say sharing the airwaves with these two is a lot of fun. We have all cross promoted each other in some capacity and have appeared on each other's shows in the past few months. I am looking forward to what is yet to come.
Last but not least how I do leave out the guys in Helloween? Where would I be without them? Good question and I can tell you my life probably wouldn't be the same if I had not met them and worked for them at some point. All 5 of those guys are great people and musicians and I am glad to have known them for as long as I have.
Well that's about it for now everyone. I will be posting my top albums of the year sometime next week as well as my year in review with a brief recap of each interview that has appeared on the show! Until then stay metal!
-Tony