Hey everyone,
January 2017 Album of the month belongs to Firewind!
I have been a longtime fan of Firewind. I remember when "Burning Earth" came out and I was totally hooked onto their music and Gus G's guitar playing. We haven't heard from Firewind much and in fact 2012 was the last album. "Few Against Many" was a good record but something seemed missing from the band from a chemistry standpoint. Shortly after we saw that Apollo was out of the band, Gus was playing with Ozzy Osbourne, releasing solo albums and Firewind was put on hold.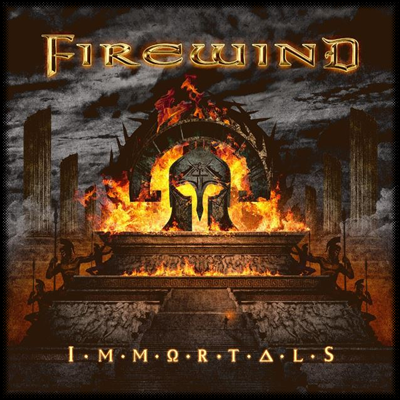 Sometimes when bands are dormant for a long time they have time to regroup and write some amazing songs. This album definitely fits that category. In fact this is probably my favorite Firewind album since Allegiance. Don't get me wrong, I feel Firewind is one of the few bands where their entire discography is amazing in it's own right. After all there isn't one bad album in their back catalog.
When I heard that they recruited Henne Basse as their vocalist I was a bit skeptical. I remember first hearing Henne on Uli Kusch's "Catch The Rainbow" tribute album. I liked his voice and he didn't sound bad in Metalium. I also admit I had not heard Henne sing in a very long time.
Boy was I wrong in being skeptical! Henne Basse fits this band like a glove! In fact he fits just as well as Apollo did vocally. It's also a very strong album musically.....probably one of their best albums.
One thing about Immortals is that it has some of the strongest songs I have ever heard written by this band. "Wag of Ages" is a good example. When I first heard this track I was blown away. So much so that I had put the song on repeat multiple times. In fact this entire album ended up that way for me. I would listen to individual songs on repeat because they all grabbed my attention in some way. That is a sign that a band has put out a very strong album. I am not sure if this will be album of the year or not but I can assure you it's a contender and rightfully so!
Tony Webster 1/26/2017