Hey everyone!
This month's "Retro album of the month" is none other than Nevermore's "Enemies of Reality". So many people have emailed me this past week on what my retro album of the month would be. I had so many people sending me so many suggestions for this that I had a hard time even thinking clearly as to which release it would be. Then it hit me...... I had been listening to Nevermore's "Enemies of Reality" nonstop all week thanks to the fact many of the people on the PMX board brought this album up.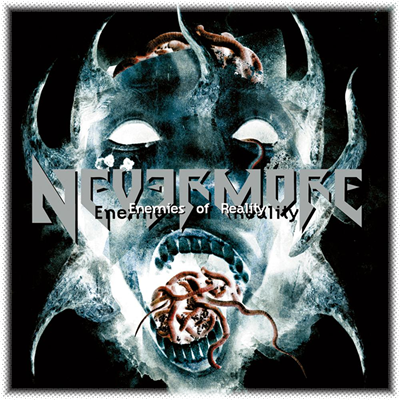 My experience with Nevermore goes back to 1995. I remember picking up both of the Sanctuary albums at a local record store and loved them. Could never figure out what happened to the band as like many metal bands in the 90s they disappeared and broke up. Then one day while browsing the internet (yes it did exist back then) I find out Warrel Dane and Jim Sheppard formed a new band called Nevermore and that they had an album and an EP out. Immediately I went out and bought both discs and loved them. Ever since then I have been a fan.
I had Warrel on the show a few times in the past, always a great interview and even met him a few times. The guys in the band were all really nice guys. When I think of my favorite Nevermore albums this one comes to mind along with Dreaming Neon Black and the Godless Endeavour
Many of the die hard metal fans remember the awful mix on the first version of this record. Kelly Gray's mix was so bad that the label had it remixed by Andy Sneap 2 years later and it was then reissued. I remember receiving a copy of the first release with the bad mix, it came in a plastic case with an all black cover. When I first started listening to this record the bad production didn't register with me. The songs in my opinion were so strong that I really didn't even notice the production until someone mentioned it.
When I bought the version mixed by Andy Sneap it was night and day. His mix sounded amazing and made this masterpiece of an album sound even more amazing. Up until this point Dreaming Neon Black was my favorite release by the band. After this came out there wasn't an album they released that I liked better than this. The Godless Endeavour was good and the Obsitian Conspiracy wasn't bad but Nevermore really hit home with me with this release and I am damn proud to say that for the past week I did nothing but listen to this as often as I can.
So there you have it everybody! My first retro album of the month! I must say that it's always great to focus on some of the older releases because metal has such a long and awesome legacy and I will continue to do this every month. So with that I definitely hope if you haven't checked this album out to do so. I also hope that if you discarded this album when it first came out and never checked out the remix......go and check it out because the album sounds a lot better remixed by mister Andy Sneap himself!
Anyway I hope you check this album out because it's pretty awesome to say the least and definitely deserving of more recognition.
-Tony Webster 10/29/2013