Hey everyone!
There is something to be said about bands who never get as much recogition as they should. In reality I can think of quite a few all around the world especially here in the states. Well one such band is Cage. Now this album is definitely NOT my favorite album by them but it was the first album I ever bought by Cage and it's the record that really got me into them. I have always liked Cage and every album after this one is an improvement. In fact with each album the band gets better and better. It also happens that singer Sean Peck is a huge San Diego Charger fan like I am.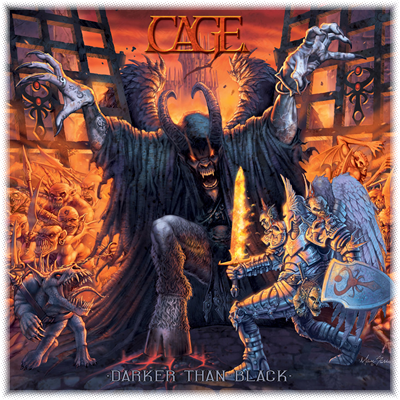 This was a minumental album for Cage. Even though they won a contest with their debut album, this is the one that put them on the map. Roy Z had a hand in producing this album plus he played some leads. There are some interesting facts on this. Cage's only song in Spanish "Chupacabra", first album with artwork by Marc Sasso, it was released with a special 3D cover, Joe Floyd from Warrior plays leads on it, and it will be reissued very soon coming in 2015!
I remember when this came out, I totally loved it. This was a band that I thought would rise quickly and they sure did over in Europe. Many of my German friends would ask me about them or any bands from overseas would ask me if I knew who they were.
Seaon's vocal range has always impressed me. It's like he took what Rob Halford did in Judas Priest to another level. A bit higher and more powerful yet still sounding awesome.
Songs like "Kill The Devil", "Antimatter", "Philadelphia Experiment" and "Eyes of Obsidian" totally round out what is just a kickass metal album. There's nothing groundbreaking here, but what does exist is an album with 13 absolutely killer metal songs you can't go wrong with. This album is top notch from top to bottom and I am proud to make it Retro album of the month for August!
-Tony Webster 8/25/2014