Greetings everyone!
It's time for the first ever "Year In Review" for the Metal Command show. Although I will be posting very soon my top albums of the year in the next week or so, this blog is dedicated to the interviews I did for the show over the course of 2011. Many of the listeners have asked for me to do a small recap or give my thoughts on each interview I have had on the show for this year. Every week i get questions from people asking me "What did you think of this interview or that interview?". So now I will give some brief thoughts on all of the people we have talked to this year
Overall it was a year of firsts. I sought out many people who I had never talked to or had on the show before and there were a lot of highlights not only for me personally but for the listeners as well. I will talk about each interview in the order of which I did them this past year.
Jens Johansson of Stratovarius - 2-4-2011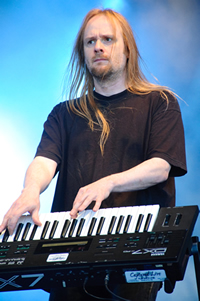 Well what can I say? Up until this point the only people from the Stratovarius I had ever talked to were Timo Tolkki and Jorg Michael. I have always wanted to interview Jens as he has one of the best resumes in the music biz and has played with a lot of big name musicians. This was the first interview I did for the show in 2011. He was a nice guy and he went into great depth into all of the stuff going on with Stratovarius as well as the big split with Timo Tolkki. We also talked about the various artists that he has played with over the years such as Dio and Yngwie Malmsteen. Check out the interview by <<clicking here>>
Sy Keeler of Onslaught - 3-4-2011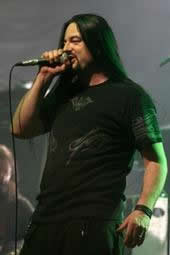 Sy Keeler was a fun person to talk to. This was also a first for me as I had never interviewed anyone from Onslaught before so with any new person you don't know what to expect. I remember I was really sick with the flu when I did this interview but I was really excited to be able to talk to Sy. He was a lot of fun and a down to earth person and he did one of the best station IDs of all time for the radio show. Check out the interview with Sy by <<clicking here>>
Vindicator - 3-11-2011
Talk about some of the coolest guys in the local music scene. Dave Overkill of Destructor shared a Youtube link of one of their songs on his facebook profile and I remember clicking on it and checking it out. Wow was I hooked on their music! In fact I didn't hesitate to get a hold of Vic Stown to have him and the band come down to the studio. These were some of the coolest guys I think I have ever talked to and they were a pretty funny bunch of people. 3 members of the band plus Vic's wife Sarah came down. Some of the nicest and most down to earth people out there and when I went and listened to this interview I started laughing because these guys were telling me some crazy stories on the air! Definitely one of the best bands in Cleveland! To check out this interview <<click here>>
Mark Briody of Jag Panzer - 3-18-2011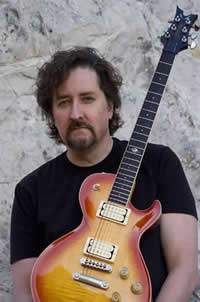 This interview was unique in the fact that this was the first time I had done a live interview over the phone in almost 10 years. This interview actually happened twice. I originally interviewed Mark like two weeks before this then the file I saved it to was corrupted so I lost the interview. Mark then agreed to do another one so instead of re-recording it again I thought it would be a lot of fun to do the interview live so it was a go. Mark has always been a great guy, in the early days of doing my show I had him on multiple times and even met him when Jag Panzer played with Iced Earth here in 1999! On a side note just to tell you how awesome the Cleveland metal scene can be, Bill Peters interviewed Mark on his show right before me! Check out the interview with Mark by <<clicking here>>
Timo Kotipelto of Stratovarius - 3-25-2011
Timo Kotipelto was one of those guys who I never had on the show because the timing was never right. For years I had wanted to interview him for the Metal Command and the timing was just never there. I finally was given the opportunity to be able to talk to him. Timo was a very nice guy and went into great detail with every question I had asked him. Check out the interview with Timo by <<clicking here>>
Sean Peck of Cage - 4-1-2011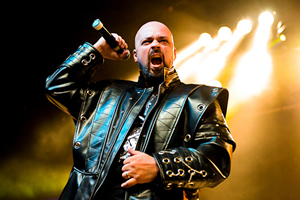 This was yet another interview done live on the air. Sean was a lot of fun to talk to and has a very charismatic personality. Sean not only gets props for being a great singer in an awesome band but he gets extra props for being a fellow San Diego Charger fan! Sean is also known as the famous Ryan Leaf heckler back in 1999. It was a lot of fun to talk to Sean, I had interviewed him once before and I can tell you that in both interviews with Sean you can tell just how enthusiastic he is and just how intense he is. Great stuff! To check out this year's interview with Sean <<click here>>
Rudy Albert of Creation's End - 4-8-2011
Intromental seems to have a good knack for finding really awesome underground bands and bringing them to light and their discovery of Creation's End is no exception to the rule. When People ask me if I have ever dealt with anyone at Intromental I can honestly tell them they are great people doing their job for all the right reasons. With that said Claus hooked me up with Rudy and he was a very nice guy. Creation's End is a band that will be making waves in the future for sure! To check out the interview with Rudy <<click here>>
Markus Edelmann of Coroner - 4-15-2011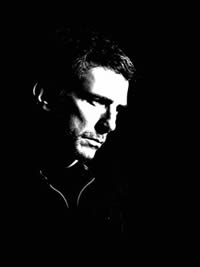 This interview generated a HUGE response everywhere on the internet. In fact this was the biggest response I have had to any interview i have done since I interviewed Roland Grapow two days after he was kicked out of Helloween. I wanted to give Coroner some much needed press. They were coming to the states to play a gig at the Maryland Death Fest and yet nobody was even giving them any press over here which was a real shocker to say the least. So I thought to myself that I needed to get a hold of someone in the band. I wasn't sure who to contact but after several inquiries I ended up getting a hold of Coroner drummer Markus Edelmann! I can tell you that this was my favorite interview of the year and that you the listeners also responded to this one. Blabbermouth ran this interview and referenced it quite a few times. Also there were nothing but positive comments on Blabbermouth which is something you don't see everyday. It was a lot of fun to be able to talk to Marky and I hope to talk to him again somewhere down the road. To check out this interview <<click here>>
Nick Van Dyk of Redemption - 5-6-2011
I have talked to Nick via the PMX board for awhile now and I have really liked Redemption since their second album came out. I can say that Redemption is one of the best prog bands out there and had their latest album in my top 20. Nick is an unbelievable musician and a smart guy. It was great to be able to talk to him. Redemption has a knack for making long prog songs so good 8 minutes seem like 3. Not many bands are capable of that. To check out my interview with Nick <<click here>>
Olaf Lenk of At Vance - 5-19-2011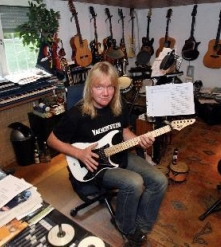 Olaf Lenk was a great interview! This was also a first for me as I had never interviewed him before much less interviewed anyone from At Vance whom have become a favorite of mine in the German Power Metal Scene. Olaf and I touched on a lot of subjects including much of the band's history and the band's future. I can honestly say he was a great guy to talk to and I look forward to having him on the show again down the road. This interview also had a HUGE listener response as there are a lot of At Vance fans who check out the show on a weekly basis and who really happy to hear an interview with the creative force behind At Vance. Check out the interview by <<clicking here>>
David White of Heathen - 6-3-2011
This was sort of an update from the road kind of thing as Heathen were on the road touring at the time. David's second appearance on the show was great because we got to talk about just how successful Heathen has become over the past year and a half with their new album. One of the best things about having David on and about interviewing him on the show is that we had talked a lot about the history of the bay area thrash scene which back in it's day was a fresh and new thing which changed music and heavy metal forever! You can check out this interview by <<clicking here>>
Michael Muller of Jaded Heart - 6-17-2011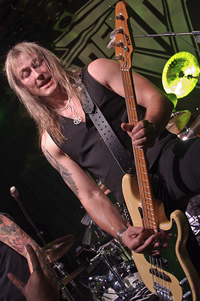 I have always liked Jaded Heart which is a very good German melodic hard rock band. In fact i have liked these guys for quite some time ever since I received the Hellava Time album when they opened for Helloween on the Keeper Legacy tour. I was blown away by that album and have since become a pretty big fan of Jaded Heart over the past 6 years now. Again this was also a first for me on the show as I had never talked to Michael before but I have to say he was a great guy to talk to. Definitely a band totally worth checking out if you like melodic hard rock! Check out this interview by <<clicking here>>
Kai Hansen of Gamma Ray - 6-24-2011
Yes it is Kai Hansen the former guitarist in Helloween and longtime founding member of the band Gamma Ray. I think Kai's legendary status in the metal scene is self explanatory so I will not go into great detail about his career however I will tell you that this was his 8th appearance on the Metal Command show. Talking to Kai is always fun and this guy is an absolute class act on stage! To check out the interview with Kai Hansen of Gamma Ray <<click here>>
Nils K Rue of Pagan's Mind - 7-8-2011
This was only the second time I have had Nils on the show. The first was 10 years ago when I had him and Jorn on the show. Nils is one of my favorite singers in metal today and Pagans Mind ia arguably one of my favorite bands today. Nils talked a lot about the band's new album and about the band's past and future. Definitely an interview to check out by <<clicking here>>
Russell Allen of Symphony X - 7-15-2011
This was the second time I was able to interview Russell on the show. The last time I had talked to him was when he released his first solo album. Russell is one of the premier singers in heavy metal and Symphony X is a great band. Russell talked about the new Symphony X album, the new direction the band has taken over the last couple of releases plus he talks about some of the various musicians he has worked with over the years. Check out the interview by <<clicking here>>
Nige Rockett of Onslaught - 7-22-2011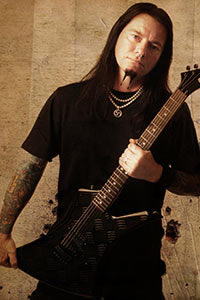 This was another interview that garnered a HUGE response from the fans. I have always wanted to interview Nige and I finally got the chance to talk to him over the summer. We talked a lot about the band's past and future. In fact Nige went into great detail about the band's history and what is yet in store for the future of the band. If you are an Onslaught fan this is the interview that explains it all!! To check out this interview <<click here>>
Michael Stutzer of Artillery - 7-29-2011
Michael Stutzer appeared on the show for the second time back in late July. Artillery's "When Death Comes" was my favorite album of the year in 2009. Having Michael on is always fun as these guys are some of my favorite musicians. Artillery has been a long time favorite of mine for a long time as well and I put them into the same category as I do Coroner, an underrated thrash metal band that never received the recognition that they deserved! To check out the Michael Stutzer interview <<click here>>
Eric Barath of I.N.C. 8-5-2011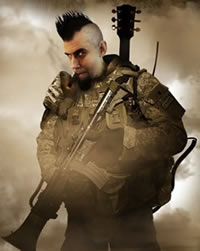 This was an interesting story. I had never heard of this band and in fact didn't know they even existed until my buddy Munsey of Skateboard Marketing started pushing their new album. I checked it out and really liked what I heard so I ended up setting up an interview with Eric and wow, this guy was a complete suprise. Very nice to talk to and he had a lot of good insight into a lot of different things. Their new album also ended up in my top albums of the year list. This is some good stuff. Eric also lives in Cyprus of all places!! To check out this interview with Eric Barath <<click here>>
Doro Pesch - 8-12-2011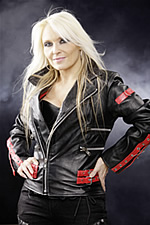 If you want to find the nicest most down to earth person in all of metal, look no further than Doro Pesch. Doro is such a nice person and a good soul. I have never in my life ever interviewed someone who is as into their fans as she is. She views her fans as her "Family" and is the most humble and down to earth person you will ever find. She reminds me of the type of person who would give you the shirt off of their back. To check out this interview <<click here>>
Dr. Metal of the Metal Meltdown show - 8-26-2011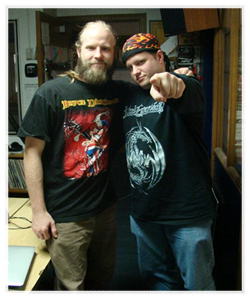 Where to start on this one........having Nick down was awesome. Lots of great memories about the early days. I have known this guy for a long time now and he is one of my contemporaries who is on Friday nights along with myself and Bill Peters. He kicks off the Friday night metal block! Any way check this out because this was actually the first time Nick ever came down to the station! To check out the interview with Dr Metal <<click here>>
James Labrie of Dream Theater - 9-30-2011
I had interviewed John Petrucci before on the show but never talked to Labrie, so this was yet another first for me. James Labrie I will say was a very laid back and calm person. He was another guy who was great to talk to and really cared about answering all of the questions in great detail. To check out this interview <<click here>>
Roy Z - 10-14-2011
Roy Z is perhaps one of the best singwriters and producers out there. Playing with Halford's solo band, Bruce Dickinson and producing some killer metal records. A friend of mine hooked me up with an interview with Roy. We talked a lot about the past bands he has worked with and the past albums that he has produced. This interview had a huge fan response as well!! To check it out <<click here>>
Andy Franck of Brainstorm - 11-25-2011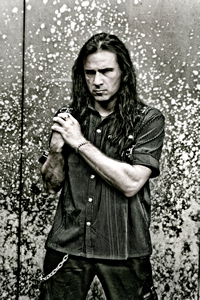 Andy Franck was such an awesome interview. Andy is a very enthusiastic person and a very intense one at that. It was an honor to interview him. I remember seeing Brainstorm live at the BWBK six pack in Cleveland years ago and the guy put on a hell of a show despite not a ton of people being there at the beginning of the show. The guy sounded great live! Finally after all this time I was able to have him on the show for the first time and hopefully not the last! <<click here>> to check out the interview with Andy.
Mat Sinner of Sinner/Primal Fear - 12-2-2011
Mat Sinner is a great producer and songwriter. Mat has been in Sinner and Primal Fear together for a very long time now. This was a great interview to end off the year and Mat goes into detail about other bands that he is in as well as bands he has worked with in the studio Check out the interview by <<clicking here>>
Well that's about it for this week! Soon I will be posting about my favorite albums of 2011. 2011 was a great year for the Metal Command and I was happy to be able to bring you all interviews by people in bands who aren't as well known as they should be. This is of course the entire mission of the show. With you the listener this show wouldn't be possible so I thank all of you faithful listeners out there for supporting the show over the years, it goes a long way in the end to support the bands and that is why I do what I do!
Here's to another great year of The Metal Command!
-Tony