4-20-2011 - Coroner
Hey Metalheads,
I am back for my first blog of the year! A lot has been happening with me which has led me to a lack of time to really be able to write a blog on a regular basis. However I wanted to take the time to write about the show this past week and about the interview with Coroner drummer Markus "Marky" Edelmann
People always ask me which interviews I have done on that show were the definitive ones, and while it is really difficult to be able to sit down and think about which interviews belong in this category, I can tell you that being able to talk to Marky would end up in this category.
Coroner was long known as one of the best progressive thrash metal bands of all time. In fact many people would consider them the inventors of this subgenre. They were a band who created some of the most unique music ever but they never gained the recognition that they deserved for the music they made. Coroner quietly went about their business for 10 years creating 5 great studio albums and one compilation. To this day there are many musicians who will tell you that Coroner had a profound influence on them. Chris Matyus from Archetype is one such person but there are also many others.
Markus Edelmann of Coroner
My first experience with Coroner came in 2005 when I joined Archetype. I remember asking Chris one day what some of his biggest influences were and the first bands he mentioned were Coroner and Rush. I was already familiar with Rush as they are a much more mainstream band but I had really never heard Coroner before. Now I had heard of the band but never really listened to them before. So I went online and found some sound samples of their music and the first song I heard was Divine Step off of the Mental Vortex album.I was immediately hooked on these guys. So I went out and bought all of their albums and what I discovered was one of the most unique bands in the history of heavy metal.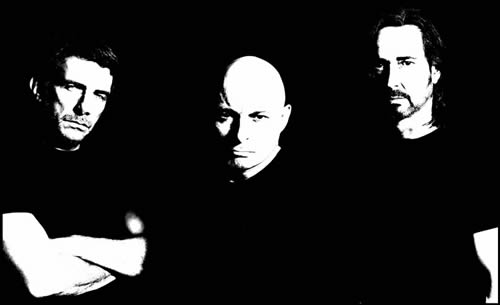 Over the last 5 years I would talk mto many metalheads online and during the radio show and Coroner's name would come up quite often as a band that people would really love to see get back together and play again. Many people even talked about how awesome it would be if they would record an album. Then came the news that they would get back together and start playing some shows. As soon as I heard this I remember immediately calling Chris and telling him that Coroner was going to be playing a live show again. Then I find out they will also be playing the Maryland Death Fest! So I started looking all around the internet for any press related to Coroner. Aside from a couple of minor news stories on a few sites I didn't really even see much about them which I found disappointing so I thought to myself "Why not contact them and try to get them on the show?"
I ended up eventually getting in touch with Markus Edelmann and we set it all up. The interview was a lot of fun for me. In fact this was one of those interviews where you almost get kind of nervous because you know next to nothing about the person you are talking to. When I setup an interview with most people I can usually find some sort of frame of reference from either other interviews or from people I know. This was different because of the fact that there really wasn't much for me to go on and I knew nobody who had even dealt with these guys before. Plus this band hadn't been around for 15 years so anything I could find was almost 20 years old.
This basically led me down a different path than I was used to. I didn't have any frame of reference to go off of so I went on to an adventure into uncharted territory which in a sense is sort of thrilling and a big reason why I like doing what I do. After talking with Marky I have to say it was a fun interview. For me being a Coroner fan the interview was great, but what made it even better was the fact that many fans of this band from all around the world were able to finally hear an interview with a member of the band.
Overall I was happy to hear there are still quite a few fans out there who like Coroner's music. This interview was just an honor for me to do both as a fan and as a DJ. I thank you all for your responses to the interview and I hope you all take that same energy and enthuiasm and go out and support this band. I am glad to see these guys back playing shows again. Oh and Tommy Vetterli is just flat out one of the most kickass guitarists ever.
-Tony
Hey Metalheads!
I know it's been a long time coming but here is my top 50 of the year! Many of you have been wondering which albums I picked this year. Last year I surprised the world by picking Artillery's new album "When Death Comes" as my #1 album of 2009! This was one of the most difficult years. Many of the albums lower down in the ranks as far as this list goes could have easily been in the top 10 or even top 25 last year. There was just so much awesome metal coming out this year. So much in fact it was very VERY difficult to even rank and compile this list. Just too much competition this year and I liked quite a few releases!!!! Remember just because a band ranks lower than another doesn't mean they put out a bad album because believe me, if I didn't like the record it wouldn't be on here. Also there are numerous releases I just didn't get a chance to listen to yet and would probably make my list if I had the time to hear them. So…… Here you go ladies and gents. Many of you will agree and disagree with this but hey, these are the releases I liked this year and in the order of how I liked them so it is what it is! I tried to keep the com ments very short as I am not much of an album reviewer. I don't sit and dissect every aspect of a record. I write my comments from the fan perspective. So here ya go!!
1. Helloween - The 7 Sinners
Many of you have already known my affiliation with Helloween. However what most do not know is that they have not had a #1 album on my list since 1998's Better Than Raw which is still one of my all time favorite albums. They have always had an album in the top 10 and why not? They are one of my favorite bands. Guess what? for this year they are on top of my list. Not because I know them but because this is one of my favorite metal albums. There isn't a bad song on this record and it seems to be one of the least talked about albums from 2010 which actually shocks me a bit. Overall this is my favorite Helloween album in the last 10 years and my highlight of this record is the drumming of Dani Loble….man does he sound awesome on this!
2. Soilwork – Panic Broadcast
I really liked this album. In fact I was shocked how much I really dig this disc. Soilwork has been hit or miss for me for the last few albums. Many of those who know me will also be shocked but let's look at it for what it is. It has a lot of catchy hooks, grooves and melodies and to me this is their best album since Natural Born Chaos. Not much else to say here really except for the fact I am still listening to this disc quite often.
3. Star One – Victims of The Modern Age
You can't go wrong with anything Arjen Lucassen does. He's one of the most talented musicians in the world and this album is just further proof of this. I really liked the song Human See Human Do which is a song based on the movie Planet of The Apes and overall the list of singers and musicians on this one is impressive as always.
4. Exodus – Exhibit B The Human Condition
The first of many thrash discs here in the top 20 for me. The Metal Command as you know was named after an Exodus song "The Metal Command" and Exodus is one of my favorite bands of all time. Exhibit B is a great disc, in fact there are moments where I like it better than Exhibit A. A big complaint about this disc is the fact that many people found the songs to be too long. I didn't find that to be a fault in this record and this has been a staple for me while driving in the car since it came out.
5. OverKill – Ironbound
Many people know of my passion for OverKill. I have liked pretty much everything about them in their career and really don't dislike any of their records. I remember WFO being one of my favorite albums in high school. Even though their subsequent albums have been good, they hadn't released anything that has impacted me as much as WFO did…..until now. Not many people expected this album to be as good as it was. Many of my friends were telling me stuff like "OverKill is going to release another boring thrash record". Guess they all ate crow on this one because those same people rave about this record as much as I do.
6. Heathen – The Evolution of Chaos
Here's another surprise of the year, Heathen. I have Breaking the Silence and Victims of Deception but this is a band who hasn't really done much since 1991. Here we are 19 years later and they release an album that really surprised myself and everyone else. This is an outstanding album, David White is on his game and the songs are just…..how shall I say this…….AWESOME! Definitely check this out.
7. Mnemic – Sons of The System
I bet this is a record that NOBODY thought I'd even have on the list. Guess what everyone, you guessed wrong. Mnemic have been a recent favorite of mine for awhile now. This is another record I liked quite a bit this year. Diesel Uterus is candidate for song of the year.
8. Grave Digger - The Clans will Rise Again
Grave Digger……one of the bands people considered the big 4 metal bands coming from Germany back in the early 80s (Rage, Grave Digger, Helloween, Running Wild). All I say is that they did not disappoint me again. Good solid songs, solid playing, good production and of course a good concept. Can't go wrong with these guys.
9. Avantasia – Angel of Babylon
I was really surprised I liked this. Why you ask? I have hardly been into what Edguy or Tobias Sammet has been doing for a long time because of my tastes in metal changing over the years. Not saying what he's been doing is bad, but I just haven't listened to it much. That all changed when I received both the Avantasia discs. Good stuff and a lineup of just solid musicians makes it even better.
10. Pretty Maids – Pandemonium
Rounding out the top 10 comes another melodic metal favorite of mine for the past few years, the Pretty Maids. Their last effort I found to be totally boring and in fact was the first Pretty Maids record I didn't like. Now they release this album. It's damn good!
11. Death Angel – Relentless Retribution
Death Angel is another band I have been a fan of for a long time. Their last record "Killing Season" was #3 for me in 2008. This one is awesome and would have ranked higher if it were 2009.
12. Blaze Bailey – Promise and Terror
I know I know everyone thinks he sucked in Maiden, well so do I. Not because he's a bad singer but because he didn't fit that band. However ever since he left he has put out a steady stream of pretty good albums in his post Iron Maiden career. I really like this one, a lot more than the Man Who Would not Die. Blaze has been through a lot of bad personal issues and has dealt with a lot of crap in his personal life. He is a good example of how someone can make a complete comeback after going through so much adversity. This is a definite buy if you like Melodic Metal.
13. Forbidden – The Omega Wave
Another classic thrash band in 2010 putting out a new album that totally owns! The first thing I thought when I heard this was "Russ Anderson sounds amazing on this record!!" His voice really sounds great and is in top form. This album just screams "Turn up the volume" when I listen to it and that's exactly what I do when I am in the car and nobody is home!
14. Blind Guardian – At the Edge of Time
This was a good return to form for Blind Guardian. The last two albums I always thought were OK but nothing near what Nightfall In Middle Earth was. This was a nice surprise in 2010. It's the typical sound for Blind Guardian. Lot's of layered vocals, orchestrations and speed. I really dig this quite a bit. They didn't strain away from their musical formula much but the songs are there and that's what counts.
15. Rhapsody of Fire – Frozen Tears of Angels
Here's another band that really shocked me, the new Rhapsody of Fire was a really really nice surprise! I admit I haven't been in to bands like this as much as of late. They still have the same cheesy lyrical concept, and over the top songs and orchestrations but this record is very well done. Makes me want to go back and check out Cold Embrace of Fear again to see if I like it any better! Well done! Killer production and songwriting for sure!! Another great record this year!! Luca Turilli is one hell of a guitarist.
16. Avantasia – The Wicked Symphony
I liked Angels of Babylon better but that's not to say it's bad by any means. I really liked the song Scales of Justice with Ripper Owens singing on it, what a great track!! Overall this is a good mix of melodic power metal and melodic rock.
17. Flotsam and Jetsam – The Cold
Here's another record that really shocked and surprised me this year and I am surprised it hasn 't received more recognition. My favorite songs were Black Cloud, Better off Dead and Take but this album as a whole rocks from start to finish. Eric AK sounds fantastic!!! What a comeback!!!
18. Masterplan – Time to Be King
I thought when Jorn left that Masterplan was lacking a certain musical chemistry. Well now he's back and that chemistry is also back. Do I like this one as much as Aeronautics? Or the self titled? No, but I do like it better than the last one.
19. Rage – Strings to a Web
Did I ever say Victor Smolski is a god on guitar? If I haven't well now I have! Rage has been a personal favorite of mine for years and rarely puts out anything that I dislike. Good solid release!
20. Venomin James – Crowe Valley Blues
Rounding out my top 20 is Cleveland's own Venomin James. For those of you looking for the successor of old school Black Sabbath, then look no further than these guys. I have listened to this one quite a bit lately and any of you doom/stoner rock fans better check this release out. Not only are they talented but they are some of the coolest guys you will ever meet in any band.
21. Armored Saint – La Raza
Here's another band who hadn't released anything in a long time, now they come out with a solid release. Not much else to say here aside from the fact John Bush still rocks and these guys can still write good songs.
22. At No End – Urban Holocaust
Are you angry? Are you pissed off at the world? Do you want a record that you can play very loud that not only sounds awesome but will piss off your neighbors? Then check these guys out. I don't care what anyone says, these guys are on par musically with any hardcore band out there today period. The song scumbag refers to a lot of people I hate in life. Also, did I mention Curran Murphy is good at producing a record and they are one of the best live acts in the midwest?
23. Accept – Blood of Nations
I know I know "Tony how is this so LOW on your list!?" "Blasphemy! This should have been #1 or at least in your top 5!!". Now before all of you get mad and shoot met let me say this first. I like Accept, and yes this is a good record and last year this could have been a top 10 record, BUT I am not the huge accept fan that many of my friends are. I like their albums but they just never did for me musically what theythey have done for many people. I like Mark Tornillo as a vocalist better than Udo, he has a much better voice and this album has riffs for days, Just outstanding. I will make one prediction for all of you though, the next one I have a feeling will be not only a great album but will be better than this one and probably WILL crack my top 10.
24. Fear Factory – Mechanize
The last Fear Factory album didn't do that much for me, it had some moments but I just didn't get into it like this one. Having Dino back really helped in the songwriting department. This album in my book as just as good as Demanufacture.
25. Vanden Plas – The Seraphic Clockwork
Vanden Plas?! These guys are still around? Who are they?! A lot of people said that to me when I kept telling them how much I liked their new record and I must admit, I like it quite a bit! Good progressive rock/metal that you cannot go wrong with. I suggest any of you prog metal fans check this out. Vanden Plas have been consistently showing people how it's done.
26. Iron Maiden - The Final Frontier
The mighty Maiden's recent imput as of late hasn't been super popular with fans and this album dealt with a lot of criticism. Last year this would have been a top 20 album for me and to be honest I like the progressive direction they went into. The title track and the song Starblind are among my favorites.
27. James Labrie – Static Impulse
Here's another one of those records that sort of came out of nowhere. I liked his first solo effort but it really didn't stick with me. This one has. This record not only has a more modern feel to it but I like the songs much better. Labrie is one of those singers people either love or hate. I like his voice in the right setting and he does very well with this album.
28. Gamma Ray – To The Metal
When ranking Gamma Ray at #28 I couldn't believe my eyes. They have had a number one album before in my end of year list, which was 1997's Somewhere Out in Space. Still Gamma Ray has become a bit stale for me but still a consistent band and this album is definitely worth a listen. It received some harsh criticism in the press because many people find it boring. I found it to be a good to decent effort and after awhile it has grown on me.
29. Annihilator – Annihilator
Contrary to what many people have said about this album I like it. It's typical Annihilator but the one thing that always shines in an Annihilator release aside from Jeff's guitar playing is the singing of David Padden. This guy is a monster on the vocals. I really like him and Jeff Waters together in a band. Not only do they have a great musical chemistry together but they have managed to crank out some pretty good discs these past few years. The only downside is that I wish more songs didn't swear so I can play more of them on the radio.
30. Jon Oliva's Pain – Festival
People have long dubbed JOP as "The band for those who miss Savatage" and rightfully so, Jon Oliva's Pain has a lot of elements that Savatage did. I think Tage Mahal is his best work with this band but I do like Festival a lot more than the previous two albums. Overall you can't go wrong with Jon Oliva's Pain.
31. Firewind – Days of Defiance
Last year, The Premonition ranked in the top 5, this year Days of Defiance ranks number 30? Anyone see a problem here? Absolutely! However Firewind has still managed to crank out a good record just not up to the par of allegiance and the premonition. HOWEVER, Apollo delivers is usually killer vocal performance and Gus G is well….Gus G, he writes good riffs and plays some great solos.
32. Dream Evil – In The Night
Cheese metal really isn't my forte these days but you can't deny that the new Dream Evil is a great record. Nothing really new here or innovative but they write good songs with great catchy melodies. Lyrics are on the cheesy side but some bands pull it off well and this one is no exception. EXCELLENT musicianship!
33. Kamelot – Poetry for the Poisoned
There was a lot of bashing towards Ghost Opera. I personally think that this is a definite improvement over that album (I liked Ghost Opera). Overall Kamelot usually puts out a good record, this is no exception.
34. Nevermore – The Obsidian Conspiracy
I have to admit, this one was a grower. The first few listens I just couldn't get into it like I did with the Godless Endeavor. However recent listens to this album have definitely made it grow on me. A lot of fans I know had the same experience. A good solid effort.
35. Sybreed – The Pulse of Awakening
I loved Antares and it's my favorite of the three albums these guys have put out. Again another awesome record by Sybreed but they didn't match Antares. Overall a good release!
36. Disturbed – Asylum
"Awwww come on Tony! A NU-Metal band?" Please guys and gals, I really like these guys as I think they are what modern commercial metal SHOULD sound like. Overall a great production and good songs and these guys put on a hell of a show live!
37. Creation's End – A New Beginning
A new band that came out of nowhere. I really like Dimeo's vocals on this. Good progressive hard rock and metal from New York. I am looking forward to their sophomore release!
38. Bullet for My Valentine – Fever
You know, I was a big fan of the debut and then the second album didn't do much for me. This one however really surprised me.
39. Angels of Babylon – Kingdom Of Evil
Great melodic rock/metal and awesome vocals! This one really caught me by surprise so late in the year! I really dig this record quite a bit!!! Good stuff!
40. Symphorce – Unrestricted
Although the songs are short they are good. Andy's vocals are good as usual. Overall good stuff!
41. Darkwater – Where Stories End
This is a great and highly underrated prog rock/metal band! I really enjoyed their debut and like the followup album quite a bit!
42. Jackyl – When Moonshine and Dynamite Collide
A lot of people laughed when I told them I liked the new Jackyl album. Quite a few couldn't even believe they are still around but I have to admit this record really sounded good! I really like it! Just good straightforward southern hard rock! I love the song "My Moonshine Kicks your Cocaine's Ass". This is an entertaining album for sure and I suggest you all check it out!
43. Kiske/Somerville
Good melodic power metal with the former Helloween vocalist and Amanda Somerville. These songs are melodic and well written. My personal highlight is listening to Kiske and Somerville's joint vocal harmonies!
44. Spiritual Beggars – Return to Zero
I was really surprised they ended up getting Apollo as the vocalist of this band. At first I didn't think it would fit but after listening to the album, Apollo sounds pretty good! I still like Demons better
45. Halford IV – Made of Metal
I hated this at first. In fact I hated it so much I didn't listen to it for a month or two then when I decided to give it another try and I ended up liking it more than I did before. I think this is Halford's weakest album aside from the Christmas album. I like the title track the best out of all of the songs on this.
46. Charred Walls of The Damned
Ripper rips as usual on this release! You know what else? Richard Christy's drumming is spectacular! I still wish Ripper would do another Beyond Fear album!
47. Circle II Circle – Consequence of Power
I always loved Zak's voice in Savatage and I am glad he started his own band. Circle II Circle have been pretty consistent for me, however I still like the debut the best.
48. Virgin Steele – The Black Light Bacchanalia
Visions of Eden didn't exactly rank too highly when it came out, but I didn't think it was as bad as many people made it out to be. My favorite Virgin Steele album is Invictus. One of my favorite power metal albums ever. This one isn't that bad and this is definitely an improvement over it's predecessor.
49. Tank – War Machine
This NWOBHM band has stayed pretty consistent and this is a solid release by these metal veterans!
50. Labyrinth – Return to heaven Denied II
The original Return to Heaven Denied was a good record, actually it's my favorite Labyrinth album to date. Also anytime a band tries to resurrect the title of an album that was their biggest and most people consider their best the expectations soar. They put out a decent album and although I think it's good. I like the Return part 1 much better.
Well that's it, let's hope for a KILLER 2011!!!!!
-Tony
11-6-2010 - Venomin James and Helloween
Sorry for the late update guys, but i have so much going on now it's insane! Anyway, I just wanted to talk about some of the latest things going on with the show. First off let me say that it was great having Venomin James on my show a couple weeks back, they were really nice guys and they have released a great album called "Crowe Valley Blues".
Venomin James in studio
They remind me of a mix between old Black Sabbath and modern metal which fits well with their sound. I have only seen them live one time, however I do need to tell all of you that they are a stellar live act, very tight and very good. The best part about these guys isn't just their music, it's the fact they are all really cool and laid back guys, no egos, no attitudes nothing. Just a bunch of laid back professional musicians. I wish more bands had their mentality.
Now let's talk about Helloween. That's right ladies and gents it's time for another Helloween album. This one is called the "7 Sinners" and it's one hell of a record!! There are a couple things I do have to say. One, it was great to have Weiki on the show once again. Actually this is the first time he's come on my show since I came back in 2008. One of the things I am very grateful for is to be able to get to know them over the years. I ran the band's website from 1998 til around 2005/2006 give or take. It was quite a fun thing to do and on top of that I was able to get to know some of my musical heroes on a personal basis. The one thing I love about those guys is the fact they are so laid back and make music not because they get paid to do it, but because they actually LIKE doing it.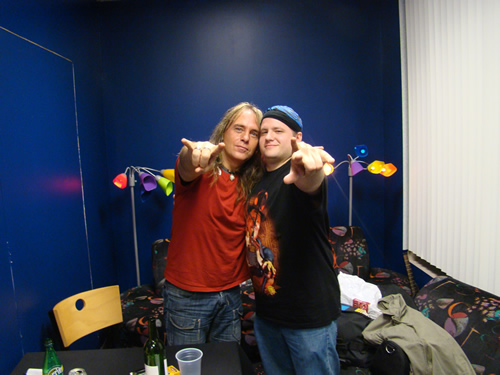 All in all I think the new Helloween is the album of the year for me although there are so many contenders it is still hard for me to tell which album i like the most so far. What I can tell you is that it's one awesome album. Dani Loble's drumming on this album is also very impressive and it's by far one of my favorite aspects of the new Helloween.
This year has been a tough year for me. With so many awesome new releases and so very few disappointments it's difficult to really place which albums are my favorites. So this month I will be going back and listening to every 2010 release that I liked and will determine which ones will be my favorites. I also got to meet Accept a couple months back which was a lot of fun. They released a killer comeback album this year. Just another reason why determining my favorite albums of the year will be quite difficult. Until then everyone, take care!
My top 10 of the week:
1. Helloween - "The 7 Sinners"
2. James Labire - "Statis Impulse"
3. Grave Digger - "The Clans will Rise Again"
4. Flotsam and Jetsam - "The Cold"
5. Forbidden - "The Omega Wave"
6. Venomin James - "Crowe Vallery Blues"
7. Star One - "Victims of The Modern Age"
8. Allen Lande - "The Showdown"
9. Angra - "Aqua"
10. Symphorce - "Unrestricted"
-Tony
9-17-2010 - My biggest Vocal influences
It's been an eventful month so far. Been jamming my butt off with Mo Rage still and getting ready for some shows coming up in the next month or two. We have really gelled well as a band and man, this lineup is just awesome. Also, I have finally come out of my personal slump when it comes to my singing. I lost my voice for 5 months about 3 years ago and it took me a long time to fully recover from it. I can honestly say that I am really happy now as I can hit all the high notes and low notes that I used to hit back in the day. I am hitting every note with precision and really sounding awesome. I have my full range back which is something I didn't have fully when recording the new Archetype. However now I am confident and really happy with my singing for the first time in a long time.
I also think there are three reasons I became a better singer over the last 5 years. One, I am older and wiser. Two, I joined a really good pro band like Archetype and working with Chris, Jamie and Keith really made me a lot better as a musician. Chris showed me a lot when it came to coming up with song structures, vocal placement and coming up with good melody lines for songs. It's something I am now using in the other band I am in. Listening to the new Archetype album this past week and man, what a record. Chris's guitarplaying is just amazing on this record. Actually everyone's playing is stellar. Also, on the last but Third note, working with Curran Murphy really made me a much better musician. I learned a lot from Curran especially when it comes to recording my vocals and how things should sound. He really pushed me to get the best take we possibly could get and I became a better musician because of this.
All I can say is that Roger Ash has come up with some genius songs over the last few years and I can't wait to play them on stage!
Many of you email me asking me who my favorite singers are and who my biggest influences are from a vocal standpoint. I went back and thought about who my biggest vocal influences were over the years and narrowed it down to six people. So here they are and I will talk about how they influenced me:
Bruce Dickinson
So what can I say? This man has influenced countless musicians and singers over the last 30 years so talking about his legacy as a frontman would be a waste. However this is the guy who set the standard for me as a frontman and the guy I always wanted to be on stage when I was growing up. Still to this day I can't help but admire him. I was fortunate to be able to interview him a few times for my radio show. He was down to earth and a lot of fun to talk to. This is the one metal frontman that really made me want to be a lead singer and much of what I am as a frontman on stage is thanks to him.
Joe Lyn Turner
Here's one in left field that many people would not have expected from me. Joe Lyn Turner has had a profound influence on my singing. For one, he has one of the most powerful voices I have ever heard. He is also the one singer that has had a heavy influence on the sifter side of my singing. I always admired his solo work and his work of course in Rainbow and Yngwie Malmsteen. Probably one of thbose vocalists you don't see mentioned as an influence on someone, but this guy had a huge impact on me.
Andi Deris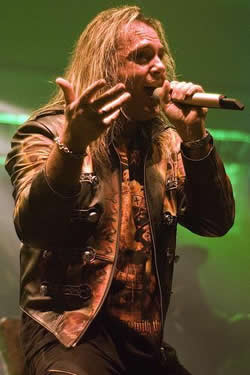 I know I know, everyone sees this and is thinking "He's only listing Andi because he ran Helloween's website and they are friends". EHHHHHH wrong!, at least about everything but the friend part. I consider Andi a friend of mine, however in knowing him for over 12 years I can say he has had a profound impact on me not only as a person but as a musician so he is being listed here! I really Admire Andi both as a person and as a singer and he is as essential to Helloween's sound as Michael Weikath is. Andi's way of writing lyrics has especially had a profound influence on me. He has this way of writing lyrics which can sometimes keep you guessing. Sometimes I think a song is about one thing and when I ask Andi about it and he tells me that the meaning of the song is totally different yet it still makes sense. Andi is also an outstanding frontman on stage and along with Bruce Dickinson, he's probably influenced the other half of me when it comes to being on stage and putting on a show. Andi has given me so much priceless advice over the years I can't help but put him here. Andi is a pro's pro in the music biz, yet another trait I have always admired.
Freddie Mercury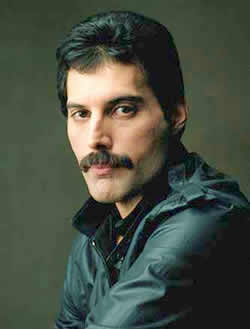 One of the best singers ever. Freddie's vocals were very unique and to this day, there isn't anyone who sounds like him. This guy had over a four octave range and is considered one of the most influential vocalists of all time. I first heard Queen's music when I heard the song "Bicycle Race" years and years ago. I then started to explore their music in depth over the last ten years and have been a Freddie Mercury fan ever since.
Carl Albert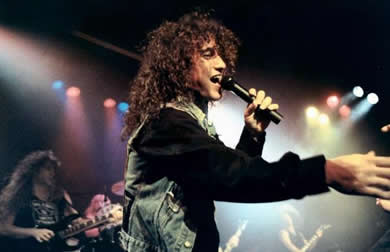 Probably the least known of my vocal influences but certainly not the least influential on me. Carl Albert was the singer for Vicious Rumors. In 1995 he died in a car crash at age 33. When I first heard his vocals on "Digital Dictator" I was completely floored. This guy has one of the most powerful voices I have ever heard in a heavy metal band. His powerful vocals are what attracted me to the band to begin with. In Mo Rage I sing some songs with a rougher edge in my voice. Carl's vocals heavily influenced me in that category.
Ian Gillan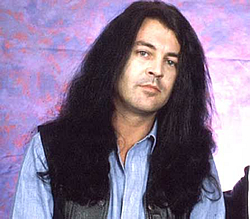 Last but not least, there's Ian Gillan! His singing on "In Rock" is second to none. Child In Time alone is just a masterpiece. Nobody back in 1970 could touch Deep Purple and what they had done musically. I totally love this guy's vocals and Deep Purple remains one of my favorite bands of all time.
Well that's it! I am out to go host the show!
My top 10 for the week:
1. Kamelot - Poetry For The Poisoned
2. Accept - Blood of The Nations
3. Fates Warning - Parallels
4. Iron Maiden - The Final Frontier
5. The Tremendous - is Huge
6. Jaded Heart - Sinister Mind
7. Megadeth - Rust In Peace Live
8. Redemption - Snowfall On Judgement Day
9. Blind Guardian - At The Edge of Time
10. Breaker - Get Tough
-Tony
8-31-2010 - The beginning of the blitz
Hey Everyone!
Its been a long time again, however I can say that it wont be as long next time. There has been quite a bit going on, so much so that the show had to take second tier for a bit.
First, let's talk about the recent happenings of the show. We have been scheduling a lot of interviews for the radio show. Roland Grapow was fun to talk to again. It had been a long time actually. I know Roland back from my days in working with Helloween and we were pretty good friends back then. It was fun to talk to him yet again and boy did he have a lot to talk about. I really like the new Masterplan album quite a bit, definitely one of this year's best albums. One of the things I was glad to see is the fact Roland got Jorn Lande back into the band. Nothing against Mike DiMeo but I think the musical chemistry between Roland and Jorn is simply better.
Second, the interviews with Dirk Verbeuren of Soilwork and Eric Peterson of Testament were equally as good. I was suprised when Dirk told me he was living in Cleveland. Eric Peterson was also fun to talk to as well yet again. The responses to all of these interviews has been great!
I am looking forward to airing the next few interviews for the show. Kragen Lum from Heathen/Prorotype/Psychosis was fun to talk to as usual! I also really like Bruce Hall's vocals in Psychosis, in fact I like them better than what he was doing in Agent Steel. The stuff he did with Agent Steel didn't seem "natural" to me. When I heard his vocals in Psychosis I didn't even know it was him until somebody told me. Also Curran Murphy will be coming down this week to talk about his awesome project called The Tremendous which I am really digging quite a bit! Can't wait to have him on the air as he's always a lot of fun to talk to and makes for entertaining radio everytime he makes an appearance on my show! Curran will also be coming on the show to talk about Shatter Messiah. The other thing that was cool is a couple weeks back Jack Sabolich from At No End came down to talk about their CD release party. I really love their new album "Urban Holocaust" plus all of those guys are pretty cool! They also have a new bassist in Jason Chamberlain who also plays in Shatter Messiah!
Also, I am eager to let everyone hear the Wolf Hoffman interview on September 10th. I think many people will like it. I know I had a lot of fun talking to him and the best part of it was that this is the first time I have ever had him on the show. It will be a lot of fun and the new Accept album is just amazing! I am most impressed not just by the new singer and the songs but with the guitar tone on the album. I also think it's nice to see Stefan Schwarzmann playing with them again. I had some dealings with him from when he played drums in Helloween for a couple years. Awesome drummer and good to see him back out on the road again!
Now, many of you are wondering what I have been up to for the last few months. First off, we are laying the groundwork for the new Archetype album which will hopefully be out in the fall! Chris Matyus has built a studio at Summit Music Studios and I have completely upgraded my studio here at home as well as my computer system and some equipment. So the album is in the mastering phase. In the meantime, while we are working on this, Chris is also working on another project called From the Ashes and I am also back in Mo Rage.
The new Archetype album has turned out great and we're just getting things set for the release and plan on playing some shows in the near future. There seems to be a lot of anticipation from many people in Europe and the response from Germany is insane! We also have a lot of people in the press who are really wanting to hear the finished album really bad! I for one can't wait to get this thing out there, it's truely a remarkable record and I feel it will do well and I hope to start work on another one sometime after this one comes out.
Mo Rage is a different story. I hooked back up with them a month or so ago and we have a whole slew of new songs plus we have added some things to the old ones. We also have a brand new lineup. We have two vocalists in the band now, however this isn't your typical 2 vocalist band. James sounds like the re-incarnation of Dio, and then of course there's me. Together there isn't a two pronged vocal attack that sounds anything like us! The closest thing I can think of is Therion but, Mats Leven and Snowy Shaw don't even sound like this. Roger Ash is of course the lead guitaris and we have a second guitarist named Reno Lee. Tommy Fialko rounds out the rhythm section on bass and Danny Bromeier is back on drums.
I have to say that the first few rehearsals have gone well! James and I are having fun trading off lines on each of these songs. With the old tracks, I still sing most of the vocals and James sings some, but mostly some lead vocals and a lot of backing vocals....this is because these songs were originally written when I was in the band before and we didn't feel a need to change much. However with the newer tracks we split the duties 50/50 and man, do these new songs flat out rock! I think people will be amazed by them and James and I trading off vocals sounds like......AMAZING! Also we will be launching our new website soon with 4 new tracks for everybody to hear.
That's about it for now! Until next time!
My top 10 albums for the week:
1. Soilwork - The Panic Broadcast
2. Accept - Blood of Nations
3. Iron Maiden - The Final Frontier
4. Testament - The New Order
5. The Tremendous - Is Huge!
6. Psychosis - Psychosis EP
7. Blind Guardian - At The Edge of Time
8. Death Angel - Relentless Retribution
9. Sybreed - The Pulse of Awakening
10. Vanden Plas - The Seraphic Clockwork
-Tony
6-25-2010 - The downfall of the music industry
Hey metalheads!
Well this is my first blog in a long time. I was busy with so much stuff over the last couple of months that I did not have time to update the website. Anyway, Why not start off with a blog which talks about the downfall of the music industry and record labels themselves.
You might be thinking at reading this album title that I am crazy. However with the way things are going trust me I am not when it comes to this.
Record labels are becoming obsolete in many ways. The rush of illegal downloads and the lack of money coming in has caused drastic cuts throughout the record industry. Also, let's not forget many of the dumb decisions labels have made over the years.
The current business model that has been in place for so many years in the record industry is and has been obsolete for quite awhile now. Back in the day; say 15 or 20 years ago or more, record labels were a necessity for a number of reasons. One, you needed a record label to get your music heard. They were the ones who had the financial backing to put out a record. Remember that when the music biz started out the internet didn't exist, digital technology didn't exist and we were just discovering the stereo field!
Let's start out with the recording process for example. You used to have to buy two inch analog tape which cost 200 bucks a reel for 15 minutes and only 8 tracks. Also, you needed thousands of dollars worth of equipment to even be able to make the recordings sound good. Let's also not forget that most studios 25 years ago cost about 85 to 100 dollars an hour. Unless you were a multi millionaire you needed the financial backing of a record label to produce and album and record a record properly for that matter. Many times the labels in the end didn't pay for the production as they just took it from the band's earnings anyway.
Next, let's talk about the promotion aspect. There was no internet, in fact the only sources people had from a media perspective were print ads, newspapers, magazines, radio etc. In order to advertise and get your stuff on commercial radio again, you needed to have the financial backing of a major or large record label. With the labels really being the only ones with access to these mediums, they were able to take large groups of people and throw them in one direction. The internet makes this extremely difficult nowadays. Simply because there's so much out there because people can post tracks online and digital technology and the internet have come such a long way. It's difficult for labels, even with a large financial backing to cut through everything. The internet is just so loaded with stuff and it's very diluted.
Now let's talk about the recording media itself. You had vinyl and CDs and you physically had to buy a copy of the album back in the day. There were no large hard drives, mp3s were nonexistent and the internet was on dial up in its infancy. Not to mention digital technology was in its infancy back then and there were no digital download sites, no illegal torrent sites, and no online purchases. There were no iPods, just CD and cassette walkmans.
On top of all of this, you had a lot of record labels ripping off quite a few bands from a business perspective.
Fast-forward to 2010 and you will find a great many changes.
Digital technology has improved drastically over the years. Today an artist can do everything for themselves that a record label can do for them, and the internet has changed how it gets promoted. The recording process is so much cheaper than it used to be, to quote one musician I interviewed recently "I can get the same sound out of a box that I could recording in a studio with millions of dollars worth of equipment". Although I slightly disagree, he is essentially correct. Bands can produce their own albums if they know what they are doing. Also, the printing of CDs is much cheaper these days and getting them distributed is easy as well through sites like CD baby and amazon.com and don't forget your small heavy metal mail-order places. Just pay an artist for your cd layout if you don't know how to do it yourself. If you want to avoid the overhead of putting out a Compact Disc you can just distribute the tracks online through sites like I-Tunes, E-Music , Napster, Rhapsody and many more pay for download sites.
I can see the major labels not being "major" anymore and basically instead of newer acts I can see them as companies putting out a lot of back catalog stuff and being more or less like a Rhino records where these labels reissue albums by artists every so often. The smaller labels I think will survive much easier. For one, they are usually run by people who care more about the music than making tons of money. Bill Peters from Auburn records is one such person. Also, these smaller labels usually give you better music in the end.
Physical sales of music are dying. I never thought some younger kids would be telling me I am too old school when I tell them I like owning the CD version of an album. I guess I used to look at people the same way when they say they liked vinyl much better! (although I like vinyl albums now). Also, the one thing I am afraid of happening is that many bands won't even produce full length albums. They may opt to just play and record 2 or 3 songs. I am one who is totally for supporting the artist and the label by buying the physical product. The one good thing about labels being so desperete to sell albums is that you get a lot of awesome special editions with cool packaging for almost every release! As a collector this is great!
The other thing I have seen quite a bit of lately is the fact that musicians seem to be slightly less talented, especially when it comes to playing live. Digital technology makes it so easy to make yourself sound like you can play something you can't by simply editing the tracks you have recorded. Many bands suffer from a live perspective simply because they don't practice enough. When you had to record on analog tape you had to have it together from a playing perspective because you didn't have much room for error when recording takes. Not anymore, just a simple edit and BAM! You are done. So bands can go into a studio and record the material and edit the hell out of it if they want and still make themselves sound good.
Another thing that is going to suck is this. Labels went from trying to develop a band's career and started throwing money at everything to see what would stick for the moment and since they do not have the ability to take large groups of people into one direction anymore, you will never have any groups or bands to become legends like the legends of old. This is something that will happen cross-genre. There will never be any great bands to replace acts like Iron Maiden, U2, ACDC, The Beatles, Aerosmith, Judas Priest, The Rolling Stones and….well you get the picture.
It will be interesting to see what happens down the line. I for one am glad all of the music on the new Archetype album wasn't heavily edited and that we can actually play/sing everything on that album and that our instruments are actually real. I am also glad for the fact that as a musician I don't have to rely on a record label to control my destiny. A traditional record deal is like strapping yourself to a sinking ship and thank god I won't be sinking with it!
-Tony
3-25-2010 - Shatter Messiah, Rebellion, Heathen and Blaze Bailey!
This past week's show was awesome! Having Curran Murphy on the show is always a lot of fun. Many of the fan questions I received were awesome. The email feedback was also awesome. People ask me all the time why I do what I do, and why I play the music I do? I also get the question "This band is good but these guys are pricks how can you play their music!?" Or "Why do you play certain bands on the show and not others?"

I will use Shatter Messiah as an example. I play their music a lot. All of the bands I play on the show whether they are huge, underground, a garage band or what not. I play them because I believe in their music and in some cases I believe in them as people. Shatter Messiah doesn't get a lot of airplay because I know Curran or because he produced the new Archetype record. I play them because I believe in the music first and foremost. There are bands where the members are absolutely some of the worst human beings alive....but the music they put out is outstanding and therefore it will get played. Curran is a great guy and all but his band wouldn't get the airplay it does if I thought the material wasn't good or good enough. This goes for any band played on the show. If I interview them, or play them on the show, I believe in their music, end of story!
Shatter messiah is a very talented band. When I first heard both of their albums I was completely blown away. Wags tore it up vocally on those records and the playing is also good but what it boils down to is the songs. The songwriting is fantastic and this is what draws me to them. I also like the lyrics quite a bit as I can relate to them, but that is more or less icing on the cake.
I am really pumped up and looking forward to seeing Shatter April 24th at the Breakfast Club on the Hi Fi stage. I have never see them live. I am also looking forward to hearing what Michael Duncan will be bringing to the table.
The interview for this week with Blaze Bailey is also really awesome. Up until last year, I had never spoken to this guy. I have to say this is a guy i really look up to in the music world. He has dealt with a ton of adversity throughout his career, especially in the last 5 years. Most people would have walked away but Blaze didn't, and since then has put out two pretty good records the most recent of which, Promise and Terror, is definitely candidate for album of the year! Definitely something you want to check out!
The interview with Tomi Goettlich went down very well. In fact I recieved a ton of comments via the email about how much they liked the band. Hopefully this translates into some album sales for them or at least translates into more awareness from US metal fans. The band is truely awesome and Tomi was a great guy to talk to.
Also of note is the interview with David White of Heathen. I don't think enough people really know how awesome this band is. The few that do remember them remember the album "Breaking The Silence" which is an old school underground masterpiece. Personally I was always partial to "Victims of Deception". The new album is fantastic though and I highly recommend it to any metal fan out there!
Also, I can't wait to have Greg "Wags" Wagner on my show April 2nd! I love this guy's voice and anything he does usually turns out awesome! He will be talking about HATE and his solo album. I cant wait to hear the new HATE album! Heard some stuff down at Curran's when I was down there a few times and it sounded killer! Hope Bill Peters gets this thing out asap!
My Top 10 for the week:
1. OverKill - Ironbound
2. Shatter Messiah - God Burns Like Flesh
3. Heathen - Evolution of Chaos
4. Blaze Bailey - Promise and Terror
5. Armored Saint - La Raza
6. Rage - Strings On a Web
7. Helloween - Unarmed
8. Gamma Ray - To The Metal
9. Fear Factory - Mechanize
10. Rebellion - History of The Vikings Part III
Well with that, take care everyone!
-Tony
2-16-2010 - New Interviews and stuff coming up so far!
Well the interview with Blackie Lawless went well and was very well received. He had a lot of good insights into a great many things on the music biz and I thank all of you who sent some great comments about it!
Onto other things......the first Archetype gig went pretty well. Aside from my migrane I think we did well since it was our first time out in 4 years. I was excited to play for sure and we plan on getting out there a lot more often!
As you now see, there are many upcoming interviews. In fact there are at least 7 bands who are going to be appearing on the show over the course of the next few weeks! I will announce three of them. The one appearing first is David White of the band Heathen! The interview will air on March 4th! I first enountered Heathen when I found the album Victims of Deception in a bargain bin back in 1995. I was immediately hooked! I then bought the reissue of the same album a couple years back and found the Combat reissue of Breaking the Silence. I really liked the band and in 2004 picked up their "Recovered" EP and dug that. Now fast forward to 2010 and they put out a killer album! In fact this one is definitely a classic!
The next interview is with Tomi Goettlich the bassist of the band Rebellion which will air onarch 12th. He was a very enthusiastic person and a lot of fun to talk to. You will find his interview to be fun to listen to. Not only did we talk a great deal about Rebellion and the band's history but we talked a lot about the music industry. Tomi was quite a bit of fun to talk to.
The next interview which will take place on March 19th and it's with none other than Curran Murphy of Shatter Messiah! I Can't tell you just how many great comments from you the listeners I received when he came on the show the first time. It was a lot of fun when he appeared for the first time. Now he is coming on the show and will be making some announcements about the band that are going to be huge! So stay tuned.
-Tony
1-21-2010 - So it's a brand new year!
Yes and in raking in the new year means a whole bunch of new stuff for the show.
First off, let's talk about what's in store so far for this year. I have 4 interviews confirmed for the show so far which I cannot tell everyone about until i actually conduct them. However i will say that 3 of the bands I am interviewing are national/international acts and one is a local legend which has done a lot on an international level.
The mission is to try and get people on the show I haven't had before and get people on the show who haven't been on here in a really long time, but still have some repeats of course.
Definitely looking forward to releases by the following bands hopefully in the early part of the year: OverKill, Armored Saint, Gamma Ray, Mob Rules, At Vance, Exodus, Nevermore, Fear Factory, Helloween, Rage, Dream Evil and Mnemic. There are of course others as well but these are on the short list right now of albums coming out in the next 3 months or so. I am sure there will be many to add to this list eventually.
I am also looking forward to getting out and playing live, which is something that will happen this year if you can believe that! So people will see Archetype playing to a live audience again! I am ready to get out there and slay some audiences for sure.
One thing that i have received a lot of emails about is the new Helloween 25th Anniversary album. I have people writing me asking me what i think about it. Well, let's settle this once and for all shall we?
First off, I think the album quality and the quality of the remakes is very well done. I mean, I am not looking at this from the perspective that this is a heavy metal album but rather, something fun the band wanted to record and yes ladies and gents, it was something they wanted to do for fun. Also, the next Helloween album isn't going to sound like this as it will probably kick some ass and be as heavy as the last record was. I also notice that many of the critics of the Unarmed album are musicians who criticize the band for releasing something like this. SO WHAT! I mean, most of these people if they wanted to record music like this wouldn't even have the balls to do this. These are mostly the same people who still live in 1988 and can't get over the fact Kiske and Hansen aren't in the band anymore.
On another note, how many more record labels are going to collapse this year? I mean we had a few last year but how many will collapse this year? The music industry is failing and failing each and every year. Turns out that whole downloading lawsuit everyone hated Lars Ulrich for really wasn't so bad after all eh? I mean, it does cost money to produce a car for example, or to produce food right? Most of these illegal downloaders don't see it as stealing. Well guess what, it does cost money to produce and record a record as well. Illegal downloading is stealing whether you agree with me or not, it's stealing. If you disagree on this you are entitled to your wrong opinion and not agreeing with me is a big epic fail on your part.
I mean think about it. Say i go and illegally download an album. I hear the music and I like it, and if I go and buy the album then it's the same thing as if i borrowed the CD from a friend or heard it in a store or listened to the preview tracks online. If I go and illegally download an album and don't like it, and then delete the files then well, it's the same thing again as borrowing the album from someone, hearing it and then giving it back.
It's when someone downloads songs, likes them and keeps them and doesn't support the artist by buying the record or buying the downloads. I have a severe problem with this both as a consumer and artist. Gene Simmons put it best:
"The thing that's changed is that there's no industry. We've allowed the fox to come into the hen house and then we're shocked that there are no eggs and no chickens left. Those college geeks that thought that they deserved to download stuff for free without paying for anything ruined it for everybody. So if you look around and there's no record industry, it's those guys, the same guys that METALLICA sued, we'll sue 'em right now, we'll flush 'em down the toilet. Anybody who thinks that they should have access to something that belongs to me deserves to go to war with me. Those guys ruined it for everybody."
I am not a Kiss fan but, I really love that quote!
Until next time!
-Tony
Questions? Comments? Flames? Email them to officermetal@metalcommand.net
12-6-2009 - Bill Peters - Easily one of my favorite interviews ever!
This past Friday was one of my favorite shows ever. Definitely one to remember and anyone who missed it then, you missed out! I had the privilege of being able to sit down with Bill Peters and interview him about the history of Auburn records, and the Cleveland metal scene. I will never forget the first time I met Bill. It was back in 1997/1998 when a friend of mine, Dr Metal, did a show at WJCU and I would sit in from time to time. Since then I have always had some form of contact with Bill here and there but never really got to know him that well.
Bill On the show talking about the Cleveland Metal compilation and how Auburn records started
Over the past year or so i have started to get to know Bill pretty well, what he's all about, his philosophies when it comes to helping out bands and the way he runs Auburn Records. Bill is one of those guys in the business who does this for the music. He's not one of these guys in the music biz that is out to exploit bands, but rather, help them out. Some of the stories he tells really gave me and everyone else who listened some real insight into what bill is all about. Now, what I am saying isn't being said because I feel like kissing someone's ass in the Mutual Admiration Society, but rather, it's out of respect. I really have a lot of respect for this guy, what he's done, and what he's doing now. I sincerely respect Bill, and that in the end is what this is all about. I gained even more respect for him because he handled everything with class. The biggest thing I respect about him is the fact he doesn't go into anything half cocked. He doesn't settle for less for the bands on his label. The production has to be good, packaging has to be good and the music has to be good. if it isn't then he won't put it out until it's perfect. Also, anytime he mentioned something bad or brought up a challenge he faced in the business over the years, he never badmouthed anybody, that is the sign of a true pro.
Bill talks about Shok Paris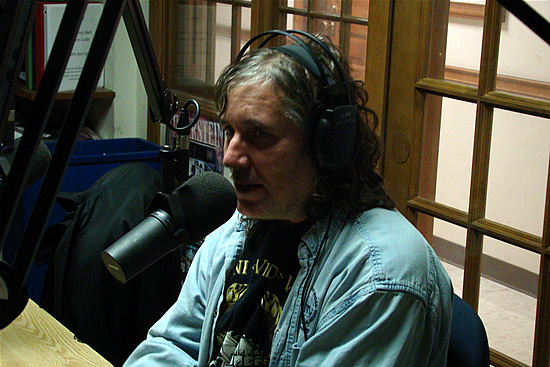 Before we did the interview I went back and started listening to all of these bands he has had on the label over the years....Breaker, Shok Paris, Destructor, Havoc, Black Death, Purgatory, Eternal Legacy, Lick the Blade, etc. Some real great stuff here! These are the bands that have always stood out. Destructor for example, has always been a great live band, always has and always will be. They are probably my favorite band on Auburn. However, then you hear Breaker and Shok Paris, both of which are technically gifted groups of guys who have put out great albums in the past. Breaker's "Get Tough" and Shock Paris' "Steel and Starlight" are two of my favorite metal albums ever to come out of this city. I really liked the latest Breaker album "Peace Love Death" which is just straight ahead kickass in your face metal and the latest Destructor album "Forever in Leather" is definitely just.....KILLER!
Bill talking about Destructor
Then let's talk about some of the newer bands he has on Auburn Records, such as Eternal Legacy, and Lick the Blade. Two very promising groups who are going to be making an impact in the metal scene. I think Lick The Blade's second album is going to be a vast improvement on the first, simply because they will end up being a better band. Eternal Legacy is pretty much there, with their newest album "Lifeless Alive" being pretty damn good.
Bill and WBWC's John Basalla
The interview was a lot of fun for me to do, simply because the history of this metal scene in Cleveland really interests me, and Auburn records was and still is a huge part of this. The most difficult thing for me as the interviewer was what to ask Bill and how to get 25 years in on 2 hours of my show, it's impossible. The guy could have gone into so much detail and we could have done ten 3 hour shows and Bill could have gone into every detail about the label and I still would have not gotten bored with it. Many of =YOU= the listeners emailed me with a lot of great questions as well. Also, WBWC's John Basalla stopped and brought some old Auburn records rarities with him to play on the show which was really cool!
Myself and Bill in full metal mode!
We also played some rarities, some old stuff and new stuff. Overall I had a blast having Bill on the show and hope to have him on again in the future. This was a great way to end the year of interviews for the Metal Command show. Look for interviews starting up again in January. Also, it was a great way to get some insight on Auburn records and the history behind it. Bill is a genuine guy who really does this for the love of the music and I wish there were more people in the business like him! I can't wait to see what he has in store for 2010!
The best of show is gonna be difficult to put together with so many great people interviewed on the show this past year. 2010 is going to be awesome and I cannot wait! the new Archetype will come out, the show will start a-new with interviews and it will be a much better year for sure for everyone!
Check out the interview in the Archive section click here to download!
Check out The official home for Auburn Records: http://www.auburnrecords.com
My top 10 for the Week:
1. Shok Paris - Steel and Starlight
2. Destructor - Forever in Leather
3. Winger - Karma
4. Anthrax - Among The Living Deluxe Edition
5. Fool's Game - Reality Divine
6. Breaker - Get Tough
7. Shok Paris - Go For The Throat
8. Cain's Offering - Gather The Faithful
9. Shadow Gallery - Digital Ghosts
10. AC/DC - Backtracks
11-23-2009 - Eternal Legacy, Best of Show, and more interviews
This past Friday's show was a lot of fun. Had a lot of great emails sent to me about the sdhow both during and afterwards. For one, the Eternal Legacy's album is awesome! I think the 5 songs we played on my show will justify this. Second, it was their first time on the show and hopefully the first of many! I really liked the music they have for this new album. Definitely will be one of my favorites of the year!!!! The songs are much heavier and the music is a lot more refined than the first album for sure.
Shaun Vanek and Bill Peters
I had quite a few of my online listeners checking out the show who wrote some great emails about the band. I think these guys will do well with their new record. I regret not being able to go to their cd release party but other obligations prevent me from doing this. I however can't wait to see Eternal Legacy live again though and I hope I get to play a show with them someday! This is definitely one of my favorite bands to ever come out of the Cleveland Area before and they are a big reason as to why I think this metal scene here in the city has gotten much better from a talent standpoint. Really can't wait to hear the full length album!!!
Shaun and Bill Talking about the new album!
I think many people will be suprised just how good "Lifeless Alive" is. One of the things I like which i have said before is that the music is much heavier, the guitarplaying and music is more focused, and Jason Vanek's vocals are top notch. Speaking from the vocalist standpoint, Jason's vocals have really evolved and have become much better on this record. This is a sign Eternal Legacy is growing as a band and a sign that the album after this one will probably be even better. Plus, the production is awesome as the band recorded it themselves!
Bill and Shaun talk about the CD release party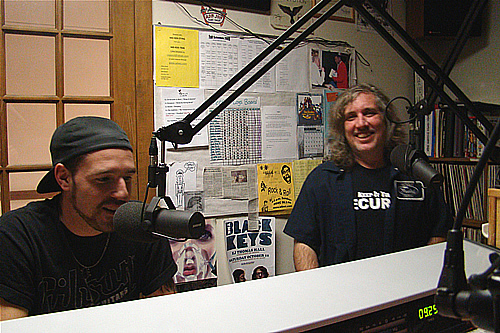 One of the best things about all of this is that Bill Peters is out looking for good bands around here and helping them out. Not only helping them out with advice, but also discovering these younger talents like he did back in the 80s. I can see this as helping with a resurgance for this genre of music in Cleveland.
Shaun Vanek(Right) from Eternal Legacy and myself (left)
All in all it was a fun time and I was glad to invite them over to the station and hope to do it again when they have another upcoming show and maybe one day down the line share a stage with them!
You can download the interview with Eternal Legacy in the Archive section <<click here>>
In other news: Work has begun on the best of show for the Metal Command, set to air probably the week after Christmas or Christmas day.....all depends on what the station has planned for Christmas! I have more interviews set to appear on the show but I will get back to everyone when it happens!
My top 10 for the week:
1. Slayer - World Painted Blood
2. Gamma Ray - Powerplant
3. ACDC - Backtracks
4. At No End - Urban Holocaust
5. Helloween - Master of The Rings
6. Anthrax - Among The Living
7. Megadeth - Endgame
8. Lick The Blade - Graveyard of Empires
9. Destructor - Forever in Leather
10. Shatter Messiah - God Burns Like Flesh
-Tony
11-13-2009 - Helloween, Eternal Legacy and Archetype (again!)
Helloween:
Just got off of the phone today with Michael Weikath from Helloween and it had been a long time since I had really talked to anyone in Helloween and it was a cool conversation. We talked quite a bit about the new Helloween 25th Anniversary album and other stuff about life in general, computers, the usual stuff people talk about. He played me over the phone the version of Dr Stein which was done for the album and it sounded totally cool. What a new and totally cool way to re-record a song. You have to actually hear it to know what I am talking about. Here is the cover for the new album:
I am really looking forward to this record. You can find more information about it at Helloween's Official Website:
Eternal Legacy:
Holy mother of god!! If you like killer progressive/power metal check this band out. They just uploaded the title track of their upcoming album called "Lifeless Alive" to their myspace page. You gotta hear this stuff! Jason Vanek's vocals really shine on this song. He sounds like the James Hetfield of old, with lots of power and aggression! These guys have come such a long way since I first saw them at the Odeon years ago playing a gig with them back in the Mo Rage days. I still remember the gig we (Archetype) played with them back in 2006, before the release of their debut album. I always had this feeling these guys would be something to really talk about in the next few years and I was right! This is going to be an awesome album and the three songs they have had on their MySpace site from the new record are just freaking amazing!
Check out this new song called "Lifeless Alive" on Eternal Legacy's Myspace site. Go to:
http://www.myspace.com/officialeternallegacy
You won't regret it! Also, the band will be coming on the show live Friday November 20th! Don't forget to tune in!
Archetype:
I have had the chance to now digest the new album and the lastest and greatest mix from mister Curran Murphy. It's pretty close to being done. Chris is going to add a couple more solos in a few songs and then we finalize the mix and it's finally done after all this time! I have to say the record has turned out absolutely amazing from both the musical aspect and especially the production aspect. I have to say that Chris is one of the most talented guitar players I have ever heard. Not just with his leads but his rhythm playing is also very unique, there isn't anyone out there I can say that Chris sounds like. His rhythms are just some of the coolest riffs I have ever heard. In fact all 3 of these guys are amazingly talented musicians and good people and I am proud to be able to in a band with them. Definitely something I look forward to spreading to the masses when it's done. Curran Murphy is also one of the best guys I have ever met in the music business, he does things the right way and makes stuff sound just killer! I loved working with him! Definitely a great guitarist and producer and I recommend to anyone making a metal album to have him produce it.....you can't go wrong! Go to his studio's website and check out his work:
http://www.myspace.com/smileysoundsstudio
My top 10 for this week:
1. Metal Church - The Human Factor
2. Helloween - The Time Of the Oath
3. Slayer - World Painted Blood
4. WASP - Babylon
5. Lick the Blade - Graveyard of Empires
6. ACDC - Backtracks
7. Anthrax - Among The Living (Remastered)
8. Pink Cream 69 - Thunderdome
9. Megadeth - Endgame
10. All of the Beatles Remasters (Mono and Stereo)
Until Next time!
-Tony
11-10-2009 - Lick The Blade, Slayer, Eternal Legacy and Archetype
Let me start this off by first talking about just how awesome it was to have Lick The Blade down at the station this past Friday night! Mike Mowcomber and Ted Anderson were pretty cool guys and this was their first time on my show. It is also of note that this was the first time I have ever had Bill Peters on my show which was awesome as well. Went and saw Lick the Blade at the Hi Fi Sunday night, I didn't get to the show that early so I didn't get to see many of the bands who played before them although I did catch the last set of Venomin James and they sounded really good.
Lick The Blade took the stage and man, I will tell you what these guys are a great live band. Ted came out in a Jason mask which I thought was pretty funny, they also played a couple of covers at the end of their set, including a version of Tyrant by Judas Priest and Ted nailed it! Overall these guys sounded great live. I don't get out too much so it was nice seeing everyone in the scene once again which is always nice. I have been listening to the debut album "Graveyard of Empires". This record reminds me a LOT of many NWOBHM bands from the early 80s not only in the songwriting but in the production. I keep thinking about early Priest, Maiden and Angel Witch. These guys have an awesome sound and Michael Klein of Breaker and Bill Peters in my opinion did an excellent job helping these guys through the studio as they had never really had any studio experience before.
From Left to Right: Mike Mowcomber, Ted Anderson and Bill Peters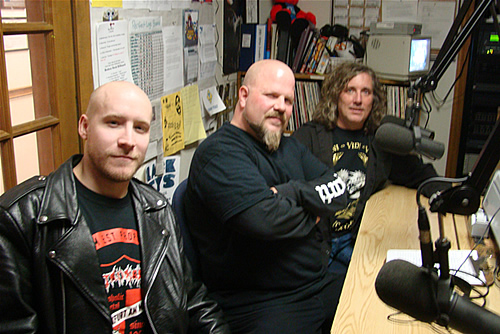 Overall it was a lot of fun and these guys are a band that you will want to watch in the next few years. I have seen quite a few bands and played shows with quite a few bands and I can tell you all that these guys will be a force to reckon with on a stage. One other note, as I had told Bill Peters this at the show, is that Lick The Blade's bassist Mike Kurtz has an amazing stage presence. In fact this was a big highlight for me in watching these guys play. Definitely one of the best live bassists I have ever seen in any band.
Check out Lick the Blade at: http://www.myspace.com/licktheblade
Check Out the latest Interview with Lick The Blade in the Archive section of the website:
http://www.metalcommand.net/archive.html
The new Slayer is really kicking my ass. What's funny is that everyone worshiped Christ Illusion which was an album I didn't care for. This is why i hate music reviews, because it's all a matter of preference. I saw some magazines slam the new Slayer saying it sucked. It doesn't and it didn't suprise me to read back and see Christ Illusion which I wasn't big on got a great review from these same people.
I am looking forward to having Eternal Legacy on the show November 20th. This is a band I first encountered back in say.........2005 or 2004 when doing a gig in Mo Rage and then I saw them play 3 years ago as they played a WJCU 88.7 benefit with Archetype. The songs they posted on their site sound great! This is an album I can't wait to hear and it will also be their first time on my show!
Last but not least i need to tell everyone that the Archetype is almost finished! The newest mixes we got from Curran sound just absolutely amazing! Wow, I can't even believe it's us playing on the album! Anyway it sounds awesome and everyone in the band played to perfection on this album. Definitely can;t wait to let people hear this. Many of you will be amazed at just how good this album sounds and I can't wait to not only get the album out there but to finally play some shows! It's been awhile!!!!!!!!!!!!!!!
My Top 10 of the Week:
1. Lick the Blade - Graveyard of Empires
2. Slayer - World Painted Blood
3. The Beatles Remasters (Stereo and Mono)
4. WASP - Babylon
5. Axxis - Utopia
6. Artillery - When Death Comes
7. Soilwork - Stabbing The Drama
8. Anthrax - Among The Living
9. Helloween - Keeper of the 7 Keys Part II
10. Sonata Arctica - The Days of Grays
Until next week!!
-Tony
11-2-2009
A lot has been going on lately and this is why there has been a lack of blogs lately. First off, the new Archetype album is almost done, the mix should be finally finished by next week. I will also be participating in some other musical projects that are sure to kick ass! More details soon! I have already begun work on the "Best Of" the Metal Command show this past week and this will PROBABLY air either the week before Christmas, I'm not sure yet. Last year I did a top 30 countdown, this year it will be a top 25 as some bands released albums with nothing but long ass songs (Dream Theater for example).
Also, when the new Archetype album is done....and ready to be released I will be hosting a world album premier show around the album's release whenever that happens. So far there is lot's to come! I will have a new metal mailbag up soon!
10-6-2009
A lot has happened in the last 2 and a half weeks. I ended up getting really sick with a combination of the flu and an upper respiratory infection that not only made me lose my voice but I was unable to do ANYTHING. Anyway the new Archetype album is done and is being mixed. It sounds amazing! More info when it comes. I don't have much else to say right now as i just got over being sick.
9-8-2009 - Rumors and this past week's show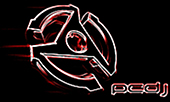 I have started using this new software that I bought well over a year ago. I originally bought this software to run my show but for some reason I was lazy and never did get around to using it. Well finally a couple weeks ago I installed it into my laptop and started learning how to use this software. I never realized just how cool this program actually is! You can automate EVERYTHING! You can also crossfade and do all sorts of cool stuff with your music library. This program is mostly for club DJs but, for radio it's excellent and I highly recommend this software. It's called PCDJ Red VRM and you can check it out by <<clicking here>>
The Cage interview went over well, some people initially thought of them as a Judas Priest clone but, many of the emails I received about the band were positive. Most people emailed me telling me they would love to see this band live as they could tell by the intensity of the albums that the band was tight and would be an awesome live act. I totally agree! I would love to see these guys live. I can just tell by talking with Sean Peck that this is one intense band that is very good at what they do. I totally love every album they have ever put out. Good stuff!!
Also there is this rumor flying around about a suppossed "Clash of the Titans" tour which would include Metallica, Megadeth, Anthrax and Slayer! I found this at bravewords.com:
SLAYER guitarist Kerry King yesterday revealed to Metal Hammer that he has heard through the grapevine that Lars Ulrich is plotting a tour that would include METALLICA, MEGADETH, Slayer and ANTHRAX.
Should this tour materialise, this would be the first time that the big four have toured together as part of the same bill. Megadeth, Slayer and Anthrax were joined by opening act ALICE IN CHAINS for the US Clash Of The Titans tour in 1991. So could it be possible that we could get a tour that includes the big four?
"I've heard people referencing Lars," says King. "I don't know Lars that well and I haven't heard it from Lars but apparently he's talking to somebody about it. Maybe us, Metallica, Megadeth (and), I think he even threw in Anthrax and I said in this day and age, I know we had that time together but how do you leave out Machine Head? There's better options than Anthrax and that's nothing against Anthrax, but they've just been in pieces for quite some time and that doesn't make as much sense to me."
Can you imagine how awesome? Or how BAD this tour could be? Imagine the "Big Four" on a tour together for the first time. Back in 1009/1991 3 of them toured together (Slayer, Megadeth and Anthrax). However this would be monumental!
Now obviously it's nothing set in stone and it's just a rumor, but this would be a dream concert for me as a fan! However I am sure there would be controversy. Can you imagine all of these crazy personalities on this tour? You have Kerry King kinda dissing Anthrax, Mustaine and King have never gotten along, and then there's the Megadeth Metallica drama. Imagine the hype of this tour too if all of the old grudges came back! Anyway I would love to see a tour like this happen most definitely.
My top 10 of this past week:
1. Artillery - "When Death Comes
2. Andromeda - Extension of the Wish
3. Ice Age - The Great Divide
4. Megadeth - Endgame
5. Morgana Lefay - Past Present Future
6. Inmoria - Invisible Wounds
7. Skyclad - In The All....Together
8. Manowar - Thunder In the Sky
9. Anubis Gate - A Perfect Forever
10. Death Angel - Sonic German Beatdown
-Tony

8-28-2009 - Artillery and Pathosray
I have to let everyone know that I am finding it more interesting and much more fun to talk to and interview bands who are more or less underground in comparison to most of the bigger bands (Metallica, Priest, Maiden etc). I remember back in the early days I wanted to interview every big name band I could find and I ended up doing just that. However nowadays, 11 years after the start of the show, I really find that many of the more underground acts give the better interviews and are more fun to cover on the show.
I just spoke to Michael Stutzer of Artillery and Alessio Velliscig of Pathosray, two very cool and nice guys man!

Let me first start by talking about Artillery. This is one of the best thrash bands I have ever heard. They remind me of a more extreme Coroner sometimes when I listen to the riffing, it's somewhat as impressive as some people's lead guitar playing. I definitely dig this band big time. I first encountered them when they released a box set of their first four albums plus bonus tracks. The box set is called Through the Years and when I put the first disc in I was blown away. What was I missing all these years with this band!? Now......fast forward to 2009 and their new album called "When Death Comes"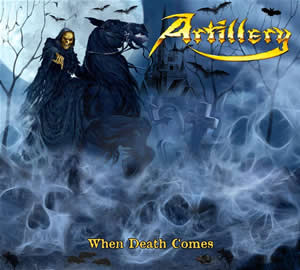 I cant begin to tell you just how awesome this album is, definitely right now this record has taken my number one and top spot for the year. If you guys hear this you will understand what I mean. Some of the best thrash metal ever recorded by anybody period!
You can check out Artillery's Myspace site at: http://www.myspace.com/artillerythrashmetal
Now onto Pathosray. Talking to Alessio was a ton of fun man! This guy was totally one of the coolest people I have ever talked to. Pathosray has also released some great stuff, especially their new album "Sunless Skies" which to me is one of my favorite releases of the year. Definitely can't wait until their next album!
Check out Pathosray's myspace at: http://www.myspace.com/pathosray
Overall it's been a fun ride so far and I have a lot of interviews scheduled for the show!!!! So stay tuned everyone!!!
My top 10 albums of the week!
1. Artillery - "When Death Comes"
2. Skyclad - "In The All Together"
3. Pathosray - "Sunless Skies"
4. Megadeth - "Rust In Peace"
5. Slayer - "Seasons In The Abyss"
6. Anthrax - "Alive 2"
7. Testament - "Live at Eindhoven"
8. Gamma Ray - "Majestic"
9. Mo Rage - "Feel the Rage Live!"
10. Coroner - "No More Color"
-Tony
8-24-2009 - Get Thrashed, The new Artillery and this past week's show!
Well so far it was a good show last week. I got bombarded with emails and telephone calls during the first hour. It got so crazy I had to busy all the lines or not even answer the phone so I could fill out my logs and reply to people's emails. I wasn't live on the air as i had a taped show due to some family stuff I had going on. All in all it was a fun show and many of you went nuts on me for not being there! Remind me not to take a Friday off ever again.
One question that has come up is "Why no interviews?" Well....I have scheduled interviews with 8 different bands and I will be doing these for the next two weeks to be featured on the show. Cage was the first band, then Pathosray and then after that.....well.....you'll just have to find out HA!
I was watching the Get Thrashed DVD Documentary of thrash metal.....very good stuff and it covers a lot of bands who really impacted that scene which is one of my favorite eras of metal ever. Hell, I have even been listening to a lot of thrash metal lately. Speaking of that, I just listened to the new Artillery album "When Death Comes" is one of the most outstanding thrash records from this past decade and just took my number one spot for album of the year so far! Awesome stuff! You can check that band out at http://www.artillery.dk
Other than that, life is good and things are going well. The new Archetype is sounding great and......I will be working on another band project as well that I hope to record with mister Curran Murphy! However I will keep this under wraps for now.
My top 10 albums for this past week
1. Artillery - When Death Comes
2. Anthrax - State Of Euphoria
3. Megadeth - Rust In Peace
4. Manowar - Thunder In the Sky EP
5. Exodus - Fablous Disaster
6. Savatage - The Hall of The Mountain King
7. Volbeat - Guitars Gangsters and Cadillac Blood
8. Dream Theater - Black Clouds and Silver Linings
9. Metallica - Master of Puppets
10. Megadeth - The System has Failed
Until next time! Metal On!
-Tony
8-16-2009 - A week of in your face metal!
I've been listening to a lot of metal that's sort of what you would consider "In Your Face". Mostly I have been listening to Megadeth all week however you can throw in some Cage, Testament, Slayer, and Anthrax.....just a lot of classic thrash and in your face metal all week. My recordings with Curran went great and I had quite a lot of fun.
Also, I talked to Sean Peck of Cage. Cage is from San Diego and I am a huge Charger fan, as is Sean which is freaking awesome. He told me he was a Ryan Leaf heckler back in the day. For those of you who don't know what that is, there were a group of fans dedicated to heckling Ryan Leaf who is probably one of if not the worst draft pick in NFL history. The damn bolts could have had Peyton Manning! Anyway talking with Sean was a lot of fun, although what sucked is that I had a splitting headache and a bad case of studio voice from recordinng vocals for the new Archetype album.
It was fun and I will let you know when the interview will air, most likely September 4th!
My top 10 of the week!
1. Megadeth - Rust In Peace
2. Megadeth - So Far So Good So What
3. Cage - Science of Annihilation
4. Megadeth - Killing is my Business and Business is Good
5. Megadeth - Peace Sells But Who's Buying
6. Megadeth - Countdown to Extinction
7. Megadeth - The System Has Failed
8. Testament - Formation of Damnation
9. Slayer - Seasons In The Abyss
10. Anthrax - Persistence of Time
8-7-2009 - At No End On The Air last night!
I have to say that having the guys from At no End on the show was a lot of fun! Their new album was recorded at Smiley Sounds Studios with Curran Murphy and will literially melt your face! Nowadays there aren't that may cool people in Cleveland anymore, but of the few that are left, these guys are some of the most down to earth people i have ever met.
At No End in the studio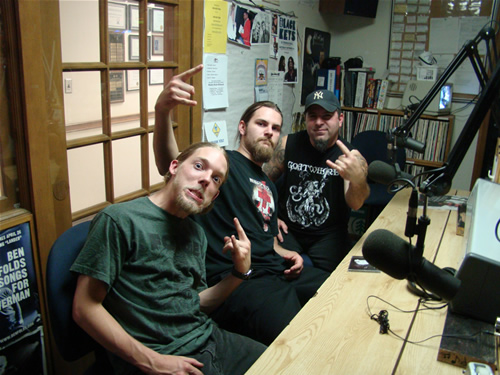 What amazes me about these guys aside from the music IS the fact they are down to earth. They are the type of musicians that play music because they want to have fun doing it. They aren't doing it to be rock stars, and they aren't doing it for chicks, money or anything else. I know how this type of musician works, they will work smart, work hard and they couldn't care less if they play in front of 25 people or 25,000 people.
Tommy, myself and Don
They are also part of the North Coast Crew, which is a collection of bands who....WORK TOGETHER to help each other out at shows, help out networking and help promoting themselves. I think this is something that has been lacking in the Cleveland area for a long time. Bands working together to network and help each other out in friendship. That's something I really admire about these guys.
Myself and Kenny of At No End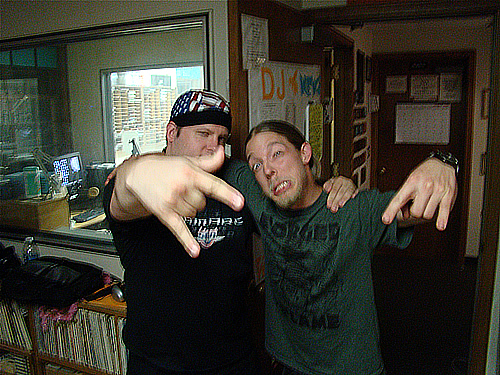 One other thing I noticed about all 4 of these guys in At No End. They have a lot of intensity and drive. I have never seen these guys live but, I can only imagine just how an intense of a show that they put on. I mean, if you listen to their new album, you can hear the intensity in the music. However, just by talking to these guys, you can tell that they are very passionate about their music and that they put 110% into everything they do. I can imagine that the intensity of their live show has to be immense!
Don, Jack and Myself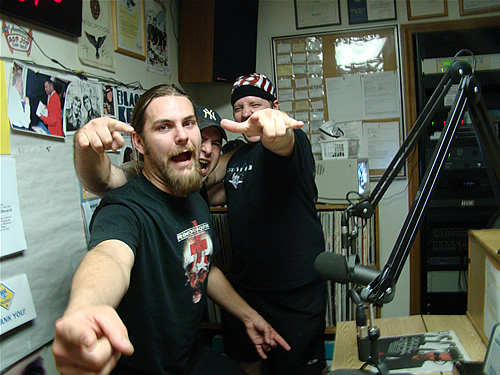 I remember way back in the days of Mo Rage when we played a show with At no End at the RE club in Akron. I unfortunately did not get to see these guys play, however, now I wish I would have! I will make it out to one of their shows one of these days and definitely give everyone a report. Unfortunately I can't attend their show this coming Friday as i have to play all of you some heavy metal over the airwaves! Anyway, it was fun having them on! Until next time!
Some links:
At No End Official Site: http://www.atnoend.net
At No End MySpace: http://www.myspace.com/atnoend
Smiley Sounds Studios: http://www.myspace.com/smileysoundsstudio
North Coast Crew: http://www.northcoastcrew.com
Also.....
My top 10 albums for this week:
1. Judas Priest - Defenders of the Faith
2. Judas Priest - Screaming for Vengeance
3. Judas Priest - Killing Machine
4. Pathosray - Sunless Skies
5. Megadeth - That One Night Live in Buenos Aires
6. Jorn - Spirit Black
7. Coroner - No More Color
8. Judas Priest - Ram It Down
9. At No End - Urban Holocaust
10. Helloween - Gambling With The Devil
Yours in metal,
-Tony
8-5-2009 - Judas Priest, Eternal Legacy and Lick the Blade
Judas Priest is one of those bands that I go in phases with. It seems that I will go years and years without listening to them at all (except for the show ofcourse). Then one day I will go crazy and listen to them for 2 months straight like I have been doing for the past 2 months. I actually sat down and yes everyone, I listened to Nostradamus and I like the album quite a bit more than I did the first time I heard it. However, like any concept album with crazy interludes and such, you have to be in a certain mood to listen to it. I have been listening to Defenders of The Faith, Screaming for Vengeance, and Killing Machine nonstop this past week. Such classics they are! Judas Priest is one of those bands that nobody can claim stayed the same throughout their career. They have always ventured to something different. I know some people may say that's a bad thing (Turbo comes to mind) but in reality, at least every Priest album sounds different. I guess this diversity is one of the things I like the best about the band.
Also, a couple of cleveland bands have really impressed me as of late....well maybe three have. Let's start with At No End. I am shocked these guys aren't signed yet. They have recorded one of the best hardcore/thrash albums i have ever heard come out of this city. Just brutal, raw and in your face and that sound was brought out by none other than Curran Murphy of Smiley Sounds studios (the same guy who is making the new Archetype sound badass!). Anyhow. You can check out both At No End and then Smiley Sounds Studios by clicking on the links below:
At No End's Official Myspace Site
Smiley Sounds Studio MYspace site
Now let's talk about two other Cleveland bands who are going to put out some pretty damn good metal albums. The first is a band called Lick The Blade. These guys have more Maiden riffs than Maiden does! Really good stuff and although the production on their debut album isn't that polished (judging from the myspace tracks) they have this NOWBHM vibe and spirit in their music that I really like! I am definitely looking forward to their debut album "Graveyard of Empires". On another note or as a sort of trivia, I played in my first ever band with one of the guitarists, Brian French. Check out their myspace site by clicking on the link below:
http://www.myspace.com/licktheblade
Eternal Legacy is another band that has recently impressed me. I remember back in my old band Mo Rage playing a show with them early on in their career (2004 or 2005). They really impressed me. Archetype then played a show with them back in 2006. I thought the band had a lot of potential. When i heard the debut album I liked it, however to me, the band hadn't found itself in my opinion. The new song they posted on their myspace is awesome! I am really looking forward to their new album. The new song is called "Lost But Not Alone". You can hear it at their official myspace site by clicking on the link below!
http://www.myspace.com/officialeternallegacy
Well that's about it! Until next time....
-Tony
7-27-2009 - Boy it can be a soap opera in the metal world.
I have people emaling me like crazy asking me what i think about the new Anthrax singer now not being a part of the band. Personally, from what I saw of him he was a great singer. Now everyone knows that Anthrax just made a small but brief statement that new singer Dan Nelson isn;t in the band anymore and that they are cancelling all of their shows this year but one. John Bush is going to do a one off performance with the band.
Let me just state for the record that Anthrax is one of my favorite bands and in fact I grew up with them. I am not really partial towards any specific singer but, upon looking at You Tube the new singer really sounded like he was going to fit the band really well and I was really looking forward to hearing him on the new album.
I have also heard a lot of nasty rumors about why Dan was kicked out of the band. All I can say is this, something bad had to have happened for them to kick him out, and cancel shows. They also had a new album recorded with him. So.....
Anthrax not only turns down gigs which would have made them a lot of money, but they now have to scrap a singer who recorded their entire new CD and start from scratch with a newer singer. I find it hard to believe that a band would just kick someone out having invested time and money with them if something drastic didn't happen. What I can say is that both the band and singer aren't saying anything which tells me two things:
1. Something very embarassing happened and both the band and singer would like to downplay it.
2. The band obviously wants to avoid media drama (a very smart thing by the way).
Being in bands for years tells me these are the two most obvious scenarios. However to be honest, I couldn't care less about what happened. What I care about is who the band is going to get to sing for them next, and when their new album is coming out. I am dying for some new Anthrax! Anyhow Anthrax has been a favorite of mine for many years and no doubt the new album was going to sound killer. I hope whoever they get to sing for them is awesome, although I'd love to have John Bush back!
So there you have it folks, that's what I think.
-Tony
6-19-2009 - Long time no type!
Well it's been a long time since I have written anything. The Iron Maiden Marathon really wore me out in terms of work. Not that it was that hard but, I of course have a band, wife, life and kid hahaha.
Anyway I want tothank everyone for your support and for calling in. This year was the biggest and best reception I ever had on the Maidenthon and it was as much fun for me to do it as it was for all of you to listen to it. Now I will be concentrating on the new Archetype album as I only have one session to finish my recordings and I am done. Chris is of course finishing up his sessions as I am typing this.
So with that I will post more later on!
-Tony
5-3-2009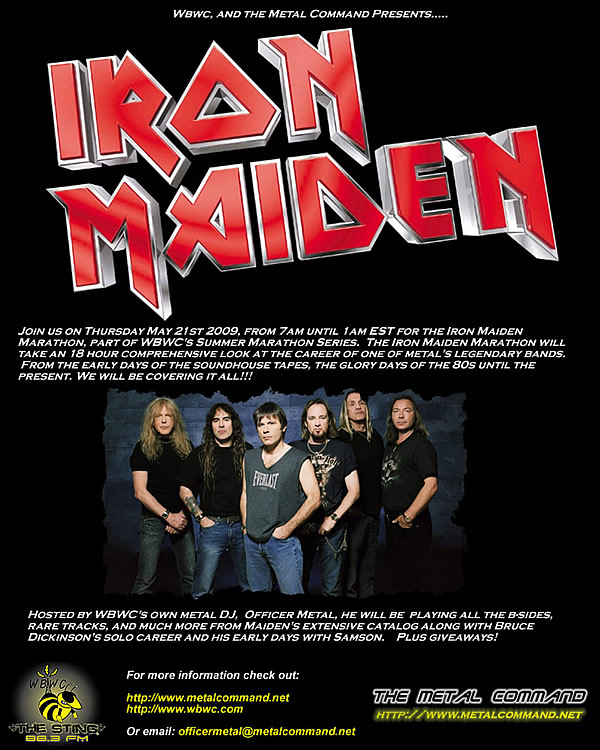 Nuff said!
4-26-2009 - Lower the Anchor! For good..... :(
This past week I heard some sad news. After 30 years of kicking ass, lowering the sails, raising the anchor and making some of the best music in the history of this earth, Rock N Rolf of Running Wild has called it a day.
As of right now, as I am typing this blog, I am listening to the Wild Animal EPI can't even begin to tell you the impact Running Wild has had on me as both a musician, music fan, and a person. However, what I can say? I am one of the few Americans who even know of these guys, but they have had a huge impact on me. I remember the first Running Wild album I purchased through an import CD shop. It was Pile of Skulls and from the moment I heard the first track "Whirlwind" I was hooked on these guys. Such a unique sound, great music and Rolf's love of history rivals my own. They are seriously one of my top 10 bands ever.
Ever since I started the show back in 1998, Running Wild has been a staple in my playlists and many of you the listenrs have requested them quite a bit over the years. I would like to think that I helped the band gain some new fans as their music really deserves to be appreciated. If Rolf ever reads this, all I have to say is "Thank You" for the awesome music he has written and that the band will be missed!
All good things do eventually come to an end.....but I will leave this blog post with one final saying. Running Wild might be disbanding, but when it comes to the Metal Command radio show, I will always be opening the sails, raising the anchor and cranking up the speakers while playing Running Wild every friday night! Running Wild will live forever in my heart as a musician and metal fan. Thanks Rolf for all the years of great music!
-Tony
4-5-2009 - The show Friday night and rehearsals
Last night we had a blast on the show. First off, thanks for all the great feedback on the Biff interview. I also had a lot of Metallica requests last night. Many of you requested "Welcome Home Sanitarium". very odd since i normally don't ever play that song nor do I get many requests for it. Also, what's up with all of the Blind Guardian requests? I mean they are a great band but it seems that I get a ton of emails and calls wanting me to play Blind Guardian! Very strange since I don't normally get many requests for them either.
I am really stuck on this new At No End album "Urban Holocaust". I seriously hope this album gets a good label release, it's just.....amazing! "United" is like a great thrash anthem! I also started the Mailbag section today! Don't forget the Doro interview is coming next week!
-Tony
3-28-2009 - Last Night's Show
Last night's show was a lot of fun. First off, thanks for such a great response to the biff interview. I thought he was kind of short with some of his answers but, all in all it was OK as far as interviews go. As far as the Doro interview goes. Well I will announce shortly when it will be aired and give you all some advanced notice. Mostly likely April 10th, however this is unofficial as of now. I am listening to the new Hammerfall right now. I loved their first album when it came out "Glory to the Brave" and I also liked "Legacy of Kings". Since then their albums have been hit or miss. "Crimson Thunder" was definitely killer though. However each of their albums has always seemed pretty cool at least for some songs that is. This new album called " No Sacrifice No Victory" is a pretty good listen. I am pleasantly suprised by just how awesome this release is. I will definitely be playing this album on the air for next week's show.
One last thing......there will be a big event I will be hosting on the radio, but since it's not set in stone I can't really reveal what it is but trust me, it's an event that will feature one of the biggest and best metal bands of all time! Stay Tuned!
-Tony
3-27-2009 - Doro Pesch and Biff Byford
I had the privilege to be able to interview Doro Pesch yesterday. I didn't know what to expect from her as I didn't know much about her except that she sang in Warlock and has put out some solo albums and I have never talked to her before. This woman is truely the "Queen of Metal' I finally heard the new album "fear no Evil" and it's freaking amazing! I will definitely explore her back catalog. Anyway not to get off track but, we did talk for awhile and I was supervised just how soft spoken, down to earth and pleasant she actually is. This woman had a rough life back in her childhood, in fact she had almost died when she was 16. It's amazing what you can accomplish after facing so much adversity. I look forward to airing this interview. I don't know when that will happen but it will soon. I will definitely go see her whenever she does come to Cleveland.
As far as Biff Byford goes, I interviews him as well. I had interviewed Biff back in 2001. Seems like such a long time ago but, this guy is funny as hell and he is also extremely hyper. Saxon is one of those bands that seems to get better with age, kind of like a fine wine. The interview airs tonight. I will be playing stuff from the new album as well as some of the classics so tune in tonight!
-Tony
3-23-2009 - Uli Kusch
The strangest thing has happened to me today. I talked to former Helloween and Masterplan drummer Uli Kusch for the first time in 9 years. It was strange because back when Uli was in Helloween, I never really got to know him that well. Then when he got fired from the band I hadn't heard from him. Then suddenly,last Friday he emails me while I was doing the show and I was shocked. I was shocked he even remembered me. The great thing about Uli is that he is a phenomenal songwriter. In fact he is one of the best songwriting drummers I have ever heard. He just has a knack for writing great riffs. We talked for awhile and it was nice to talk to him. I remember I stayed in a house with him for awhile in Germany back in 2000. I always loved this guy's songwriting, he is truely gifted in that department, and he is also a gifted drummer and an overall nice guy. He is taking a break from the music industry, living in Norway with his daughter and fishing while working as a carpenter. I hope one day he does make a comeback and form another band or project, because everything he touches usually turns to gold. I was glad to be able to talk to him once again.
-Tony
3-20-2009 - The more things change the more they stay the same
It's come very clear to me now that many things in the city of Cleveland just never change. The music scene, well the local music scene anyway is basically dying, as the Jigsaw just closed down. If you read the article in the Cleveland scene you will no doubt realize just how messed up that whole situation is. It all boils down to the almighty dollar in the end which acts like a predator always stalking you and looming over your head. I never played a gig there, although I would have loved to, and I would have advertised the hell out of it. In reading the article a lot of damage seems to have been done to the music scene by this, and by bouncing checks, no doubt some damage has been done to the image of Cleveland's metal scene. Time will only tell. Things are just so tough in a barren economy which in itself, was caused by greed.
That brings me to another point. When I have bands do interviews for this show or go live on the air. I make sure they are professionals and I won't just let any nutjob onto my show. Reason being is not only do I have an image to uphold, but I must uphold the image of my alma mater and the station. When this whole Jigsaw deal went down it reminded me of when they completely shut me out of having anything to do with them. Early on this past summer someone wanted me to have a couple bands on my show, both of these bands I have had bad dealings with and have been very unprofessional in the past. I declined to have them on the air for the simple fact that they were unprofessional. Bottom line, it doesn't even matter how much i actually like the music, if the band is unprofessional, I don't interview them plain and simple. When I declined to have these bands on my show, the so called "powers that be" who have done a lot to ruin the music scene in this city stopped having anything to do with me. Which is fine, I can stand on my own just fine, the show has it's own devout following extending outside of this city and all around the country and Canada.
It just sucks that people have to have this attitude here in Cleveland and it's a total waste because I could seriously help out in making things better. However, most of these people want to have control over EVERYTHING. They also want to take credit for stuff you have done even though they had nothing to do with your accomplishments and if you don't let them do that, then suddenly you are labeled as "an arrogant person who thinks they are too good for you " or they say "your band sucks". All because you don't have anything to do with these people. Who would want to? It's just sickening. If people would all work together and not be greedy money hungry and power hungry then we wouldn't have these problems, we'd have a healthy metal scene in the city of Cleveland. However a few people who's egos not only exceed their talent, but who's egos have ruined our metal scene in Cleveland need to step down and let the people who really want to do the right thing take over.
On another note......I do apologize for not being on the air last week. I had to pre-record the show because of a death in the family which caused a trip to New Jersey for the weekend. Over the past few weeks I have made some new local friends in the metal scene. The guys from At No End are great people. I really enjoyed having them on the show. I am not even into hardcore music, but these guys are different. I don't care for hardcore music at all, because most of it sounds the same but these guys are different. There is a lot of substance to their music. A mix of old school thrash and new school metal. Outstanding stuff indeed! Which leads me to that guiding light in this city's music scene. The North Coast Crew. These guys or group of bands are doing what this city really needs. Check out their website!
New Archetype stuff sounds killer, I go and record my vocals at the end of April/beginning of May. Curran has been a lot of fun to work with and I am looking forward to finishing my vocals for the album. Until then.
-Tony
2-24-2009 - Dave Holocaust
Its been a very long time since I have written anything in here. However I received a very important email from my friend Joey Keiper. He's the guy who runs http://www.cleveland-metal.com I have known Joey for a long time now and this email was something very important and it reads as follows:
Hey brothers and sisters of Metal!
I'm sure you all have heard of the band Destructor. Some of you even know the guys in Destructor. Some of you even know the entire history of the band Destructor and the tragic, senseless murder of Dave Iannicca, original Destructor bass player, in 1988. For those of you who are not, please continue reading:

In the early morning hours of New Year's Day 1988, Robert Bedzyk (inmate # A204234) murdered David Iannicca in a surprise attack without provocation. Bedzyk, a stranger, had crashed a small private party the band was hosting to celebrate Dave's recent Christmas Eve engagement to his girlfriend and his band's first major label record deal after years of hard work. Dave was the bass player for the band, who had a very devoted international following. After Bedzyk began causing trouble, Dave politely asked him to leave. Checking later to make sure he had gone, Dave was surprised to see Bedzyk waiting outside in the parking lot. Concerned about Bedzyk causing more trouble to the guests or damage outside to the area the band leased for their practice spot, Dave approached and asked him again to leave. When Dave refused Bedzyk's taunts to fight, Bedzyk plunged a knife he had hidden behind his back directly into Dave's heart, nearly cutting it in two. Dave was unarmed and unaware of the knife before it was too late. He was handicapped with a spinal condition and unable to dodge the knife. He died minutes later with his fiance and band members by his side. To this day Bedzyk has shown no remorse for the crime he committed and the lives his actions both directly and indirectly effected.

This animal is up for parole in May 2009. I am writing to you in hopes that you will sign the petition that is addressed to the Ohio Parole Board. If enough of us sign this petition, (see link below), the parole board may deny Robert Bedzyk the freedom to walk the street, the freedom to live, to love, and everything else he took away from Dave and his family and friends.

I plan to write a letter and send it to the parole board. I encourage you all to take a moment and write a letter to the address below in an attempt to flood the parole board's office with letters all screaming out the same thing: Keep Robert Bedzyk in prison!

Here is the address:

770 West Broad Street
Columbus, Ohio
43222
614-752-1200

Joe Keiper
Some of you may be wondering why I would post this on my website? Some people may ask why I would even care? Yes, I was in 4th grade when Dave Iannicca was killed. However, I am from Cleveland, this is my home, I am a Destructor fan, and this guy played in a metal band from Cleveland and what happened to him wasn't right. He's from Cleveland and he's one of our own. Letting Robert Bedzyk out of jail is wrong. The guy killed someone, and he should pay for it by being incarcerated for the rest of his life. Dave Iannicca did nothing to deserve getting stabbed by this guy, Dave was simply trying to stop trouble from brewing and wanted everything to be cool, but instead, Robert Bedzyk killed him in cold blood. I urge everyone, to please sign the following petition:
http://www.petitiononline.com:80/iannicca/petition.html
Or please write a letter to:
West Broad Street
Columbus OH 43222
Phone #: 614-752-1200
Thanks for your time!
-Tony
11-7-2008
It's been awhile since I have written anything worthwhile in my blog, I have been very busy setting stuff up for the show as well as with Archetype's new recordings. First, I must comment on a couple of people in the metal world who have passed away. The first is Gus Chambers of Grip Inc. I had Gus on the show a few times, a couple times back when "Solidify" came out and once when Grip Inc released "Incorporated" Gus committed suicide awhile back and it made me go back and listen to these interviews that I had done with him. They were really insightful and Gus really had a lot of great things to say about a lot of stuff. I remember back in high school when Grip Inc's first album "The Power of Inner Strength" came out and just how much my friend Mike and I really loved listening to it! Over the years Grip did put out a couple of more albums that I liked before disappearing for a big and then coming back with "Incorporated" and I had followed them throughout their career. I even went and saw them once in Detroit where a riot in sued.
The other person I wish to speak about is Mike Baker of Shadow Gallery who died of a heart attack recently at only age 45. Shadow Gallery was a band that was really instrumental for me when I was in college. I really loved their self titled debut album and I used to play Tyranny all over my show back when it came out. I have never had Mike at the show nor have I ever talked to the guy but, he fit that band like a glove and I really liked his voice. It's such a shame he passed away at such an early age.
As far as the new Archetype album is concerned. I will not reveal much except for the fact that Curran Murphy(Shatter Messiah, ex-Annihilator) is producing it and that Keith kicked ass and finished the drums. I will put out an official press release sometime this month basically documenting everything that's going on with the band, the production and stuff like that. We're looking at having it done in January as far as mixing and mastering is concerned and the recordings will be finished this month of November. his is why I haven't posted many blogs and why I have been sort of dormant lately. Curran Murphy will also be coming down to the show on November 21st possibly with Greg "Wags" Wagner of H.A.T.E. and also of Shatter Messiah. We will talk about a show Shatter Messiah is playing and what they are doing and also possibly talk about Curran's kickass studio!
Well, that's about it for now ladies and gents, until next time.......
-Tony
9-28-2008
I am home now and sitting here pondering a great many things. I guess you could say I have had some sort of a revelation in the past week. Archetype is finally back on track, my life is shaping up after a lot of difficult stuff and adversity that i have dealt with over the past 10 years. I bring up the last 10 years because 10 years ago almost to the date was the first time I met the guys in Helloween.
Markus and I at a fire station in Chicago
There have been very few bands or musicians that have really moved me in my 20+ years of listening to this type of music, Megadeth was probably the first band that really struck home with me, back in high school, as their music and lyrics really impacted me a lot. Another musician that has really moved me is Arjen Lucassen of Ayreon. I seriously am addicted to his music, such awesome and tremendous stuff! However, I don't want to get off of subject here as this blog is mainly about Helloween. Helloween is a band that has probably moved me the most out of any band I have ever listened to. I don't know exactly what it is about the music but it's something that has really moved me as a person. I still remember back when I first met the guys, and I remember back when Weiki asked me to run the band's official website. Man, I was a young 21 year old who just became a DJ at WBWC 88.3 so long ago. I was so honored to be able to do something like this for a band that I truely loved. I was also very fortunate to get to know the guys in the band not just as musicians, but as people. Let's fast forward 10 years, I finally get to see them in the states again and get to hang out with these guys once again. Ever since I turned the site over to David 3 or 4 years ago I started getting involved with music and I didn't talk to the guys as much as I used to. So in seeing them again, I was really excited. I went into this thinking I will get to hang out with some friends, do some interviews for the show and have a good time. However, once I got there I didn't even think about the show or doing any interviews. It was more for me to be able to see the band live, and to talk to them in person. I went to these shows to see the band live but moreso, just to see a group of guys I consider friends of mine who through music and even by getting to know them have impacted my life greatly.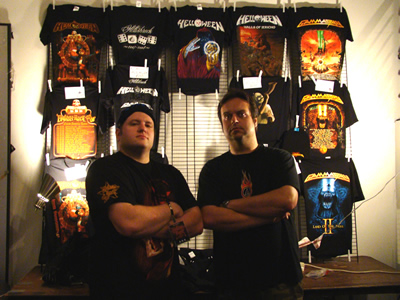 Ray and I at the Merch booth
I have a tremendous respect for these guys, for one, getting to see Sasha and Dani play live finally was truely awesome. Obviously from the albums I can tell these guys are good but, they bring it live! They help make this band sound and play better and I could never imagine Helloween without them now. Just outstanding guys and very talented players. Getting to see Weiki and Markus was awesome as well. Although admittedly my highlight was being able to see Andi Deris yet again. This blog isn't about kissing anyone's ass, for those of you that know me well, I don't kiss anyone's ass and I always speak my mind. This blog is about respect, I respect them as musicians and respect them as people. When I first heard Andi sing Halloween at the Baltimore show I was so beyond floored by his rendition of it I couldn't even THINK of the rest of the show. Every music fan and musician has those two or three guys that impact them and influence their life and music and Andi Deris is one of those guys for me. When I look at who has influenced me in writing lyrics, I can only think of two people. Andi Deris and Dave Mustaine. In coming home from this trip I realized just how much Andi has influenced me over the years, this is something I never thought about before until now. I really admire this guy as a person and as a musician. He has a vocal style that can never be duplicated and his lyrics have always made me think outside of the box and has given me advice on things over the years that has helped me out. This type of musical impact is something money can't buy.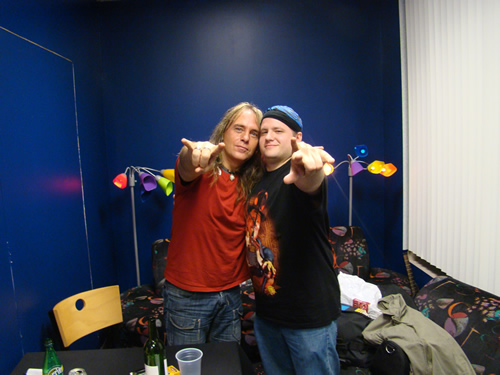 Andi and I after the Chicago show
I actually admire this band a lot, as they are a group of guys who are a rarity in this business. They are all outstanding musicians but without being full of themselves, having an ego or thinking they are better than anyone else. They go out and have fun.
I will always help these guys out any way I can in the future because the impact they have had on me will always have a positive effect on me for years to come.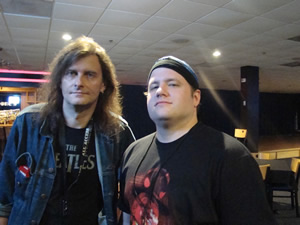 Weiki and I
I was also very honored to meet another group of guys I had never met before, the guys in Gamma Ray. I met Kai Hansen for the first time and got to talk to Henjo Richter for the first time which was awesome. I also got to meet one of Helloween's managers, Kosta from Pink Cream 69. So I ended up getting to meet guys from three bands that have impacted me quite a bit and they still do even to this day.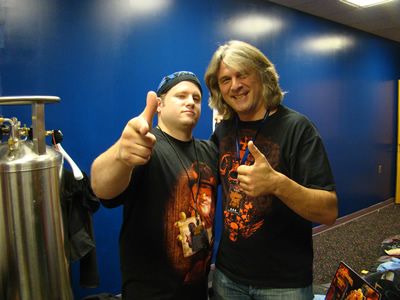 Kosta from PC69 and myself
This trip was the kick in the ass that I needed. I was very inspired by watching both bands play. It was the kick in my ass to go out on stage with Archetype and just have fun and kick ass on stage once again. I cant wait to get out there! See you all soon (this Friday) for more metal mania!
-Tony
9-16-2008
This past week's show was a lot of fun, in fact, I hadn't had that much fun playing Metallica on the radio ever. A lot of people had requests but unfortunately when a band like Metallica writes long songs, it's impossible to get them all played. Reception to the new album has for the most part been good on my end. You do unfortunately have those people who hated St Anger and the Load albums who won't give this album a chance or they are so closed minded that no matter how good of an album the band puts out they will automatically hate it. Well, they are missing out because the more I listen to Death Magnetic the more I like it and the more it will get played on the show.
Someone wrote me an email telling me that the band is "going through the motions" in a lame attempt to go "back to their roots". I am sorry but I do not share this point of view at all. These songs sound like they came straight from the heart. They have some major intensity to them and some of the riffs and guitar harmonies just blow my mind. I really don't think I dislike any song off of this album at all. If the band were going through the motions the songs would suck, and they don't, I just don't get that vibe from this album. The songwriting is superb in my book. They didn't rehash anything from their past which is tough to do. I look at this album as a sort of modern day And Justice For All.
As far as the band goes, I have literally been listening to Metallica nonstop for the last 2 or 3 weeks now, I feel addicted to their music. Maybe it's because I am making up for lost time since i hadn't listened to them that much in the past 10 years or so. I have sort of rediscovered this band and I am happy I did, I feel like I am going back to my roots by doing so. Going back to the good old days when I first started listening to Metal. Death Magnetic rocks, what riffage!
-Tony
Questions? Comments? Flames? Email them to officermetal@metalcommand.net
9-8-2008
Hey Everyone,
So a blast from the past has come full swing to take me by storm again. It's been a long time since I actually sat down and really listened to a Metallica record. I will have to admit, back in the day I was one of the haters of the Load sound, and I still think St Anger is one of the worst albums to ever get recorded, and I still can't stand the S&M album with the orchestra being totally off key with the music in most of the songs……. but things have changed as far as my attitude towards Metallica is concerned.

I am a lot older now than I used to be, and when I heard Metallica was working with Rick Rubin as a producer and that they had dumped Bob Rock, I just had this funny feeling inside of me that the time had come for the band to release something really badass. Metallica is a band that I really haven't cared about much and have pretty much forgotten about over the last say 13 or 14 years now. Sure, I'd play the occasional Metallica song once in awhile on the radio but, I guess I couldn't have cared less about the band because they "Sold Out". Hell, I would do my best not to play the band hardly at all during my 10 years in doing radio.

Fast forward years later to 2008, I was looking through my vast CD collection and for some reason it hit me and I decided to listen to Kill em All and Ride The Lightning….the two albums that got me into Metal to begin with. I seriously haven't even touched these albums or any Metallica album for at least 12 years and no joke, I seriously hadn't. So upon listening to these two albums I was floored again and I remembered once again why I used to love this band back in the day. Then I followed with Puppets, Justice and the Black album and then Binge and Purge. I forgot just how much I used to like this band. Then I decided to commit "Blasphemy" in the eyes of most of the so called "die hard" Metallica fans and went and bought Load and Reload again and I listened to these albums that I so much hated back when I was a kid and you know what? I really didn't hate them. I guess it's because my mind is now open to different things when it never used to be anymore.
I still don't think the Load albums are anywhere near as good as everything from the Black Album and back, but they are good for what they are and although they may have sold out in some people's eyes, as a musician I understand why they did what they did. Sometimes you have other ideas outside of the realm of your genre that you need to explore, so I do actually respect these albums as they do have some good songs on them of which my favorite is Fuel.

I then decided to play the band more often on the Metal Command, and upon doing so I then read about their upcoming album Death Magnetic. I will have to say I had no expectations for the album other than the fact that I thought it was a good thing they were working with a guy like Rick Rubin. So….last week I was able to hear 6 songs from the new album which were given to me to play on my show. The first song I heard was a song called "All Nightmare Long" and I was completely shocked and floored by this track. I was like "What the hell?!". It has some crazy time changes and it's actually hard to describe other than the fact it's an awesome song and that it's heavy as hell! I then heard My Apocalypse, The Day That Never Comes, The Judas Kiss, Broken Beat and Scarred, and Cyanide. Since I had them on CD I got to hear the full production and sound and other than the CD being mastered too loudly with little dynamic range, I really got into these songs. For the first time in a long time I now consider myself a Metallica fan again. Not because they are making a back to the roots record, but because I discovered just how much this band had meant to me in the past and I discovered that their early stuff which influenced me wholeheartedly still has the same effect on me as it does today. I am glad I have gone back and rediscovered just how great this band truely is and just how much of an impact they had on me in my early days of liking metal.

I seriously don't think Metallica is the best metal band ever, hell I still prefer Megadeth…..but I will say that they are one of the many greats that this genre has witnessed and I am glad this band is doing what they're doing. Metal needs bands like this to make new records that are badass. Many of you listeners were calling me off the hook this past Friday wanting to hear more of this album and wanting me to play a bunch of songs again off of the disc next week. So I decided that on this coming week's show, by popular demand, I will be dedicating my middle hour to nothing but Metallica! Focusing on the new album of course, but also playing some of the classics. So tune in this week to the Metal Command and get some metal up your ass!

-Tony

8-26-2008
Well I have received quite a number of emails asking why I didn't play the Prototype interview this past week and the answer is this.....
I don't like to half ass things. When i go on the radio it's like I am on stage with my band, I have to lead when I am there. I have to set the example and i need to be at my best 100% of the time. At WBWC I am on a stage because it's my job to not only put on a good show for the listeners, but to be an example to the students who run the station. To have myself be the example of an alumni who has been out in the real world (granted not in radio but in music and music production). The students need to have alumni who accmplish things as professionally as possible. I didn't have time to edit the interview properly and I didn't have time to make sure that it sounded the way it should. I Feel that if something is not done the way it should be 100% it shouldn't be done at all...plain and simple. I would be cheating the listeners, myself, the school, a radio station that has given a lot to me, and of course the students if I were to settle for nothing less than perfection and professionalism.
I apologize to those who looked forward to hearing the interview last week but it will be airing this week. I am definitely stoked for the upcoming months ahead with the Metal Command being back on the air. The responses have been amazing.....in fact the responses are the best that they have ever been even when I was interviewing bands like Metallica and Maiden I never had a response this good. I am grateful for this and I am happy that people are this excited about the show. I am having a blast hosting it once again. Take care and until next week....
-Tony
8-15-2008
I was always told by a famous musician that nothing changes under the sun.
One of the biggest lessons to learn if you are in a band is that you need to learn to communicate and in the case of the previous blog I just deleted in having to do with Mo Rage, there was a lesson to be learned, and that's the hard lesson of simple communication.
I have stretched myself to the limit over the past 6 months, getting my radio show back was a wild card in the equation that I didnt expect to happen, plus two different bands and raising a family and having a job. So what was I to do? I wanted to do everything and in a perfect world I would clone myself so I COULD do everything. However, the world isn't a perfect one.............
The incident with Roger was a lack of communication between us. What I compare Roger to other musicians, the best comparison is Lemmy Kilminster. Lemmy is an icon that does nothing but play 24/7 and record 24/7 and he does nothing else. That's Roger in a nutshell.
Many of you will ask me why I am writing this and changing my views on what happened and simply put, there was a miscommunication. When I was hung up on and when it was posted that I wasnt in the band I was pissed and instead of us calling each other I just said forget it and posted something before I should have. I also realized that the reason he had hung up on me wasnt because he was being a prick, but because he thought that I was out to screw him over like many musicians have in the past. When almost everyone has messed with you after you worked your butt off, you tend to get to a point that people are there to screw you over. This made me realize something, was I really screwing him over? Maybe not directly or intentionally......but, when I started doing my radio show and getting ready for Archetype rehearsals I just didnt dedicate the time I should have to Mo Rage and it's unfair to the guys in the band to say I can dedicate time to them when I can't and by staying around I am hurting them more than helping. SO we parted ways.
Then it popped into my head.........I need to drop something. So what do I stop doing? Obviouslty raising my family is something I cant drop so it comes down to the Radio Show, Archetype and Mo Rage. The radio show is something I just got back and its an opportunity that's hard to come by, plus I committed to them that I would do it.
So it came down to the two bands. Which band's music do I like better? I like them both equally. So i had to ask this question.....which band do I fit in with better? Personality wise and music wise I fit in Mo Rage like a glove, however I just don't have the time for them like I thought I did and for the past two months I thought I had the time to do it when in fact I just don't have the time to dedicate myself to them. Much of my life has changed since I was in the band before and this is the difference between myself then and myself now. I don't have the Lemmy mentality. Mo Rage has been around for over 20 years, they thrived with me and they did well without me so I am sure that they will be fine with a new lineup. Nothing lasts forever and my time with them as a musician is over for now as our paths are going in two different directions and not admitting that to myself, as hard as it is for me, would be foolish so I had to swallow some pride and admit to myself I cant dedicate myself to everything that I want to dedicate myself to.
The musical Chemistry in Archetype is the best that it has ever been and it would be stupid to leave suddenly after everything we have accomplished and have been through these last 2 years of BS and acts of God that have prevented us from accomplishing what we are going to accomplish but trust me, when we unleash the new album on people, the world will be a much different place and this is where I need to be right now.
Unfortunately this situation also became escalated by a few losers in the music scene who act like 10 year olds. These degenerates seem to have a hard on for anyone who can outplay them or kick their butts on stage. So these people swooped in like vultures and tried to get Roger and I at odds with each other, get us to hate each other and get us to fight. These are the same people who's ego exceeds their talent and although they might think they are great musicians, they are nothing but primmadonnas who are legends in their own mind. Guess what dickheads......your little plan didn't work!
There are very few good guys in the metal scene here, Roger is one and I am one and the few that are like us need to stick together and will stick together and there isn't anything anyone can do about it. I am not in Mo Rage anymore but that doesnt mean as people we dont stick together and that doesn't mean that just because you aren't in a band anymore, that you can't be friends with them.
So in the end, there's no hatred, no animosity or jelousy, and no BS. Things have been talked out and today's lesson in the world of music is, that communication is key, and the only smack talking going on will be when we talk smack to each other in a friendly way when Archetype and Mo Rage someday play a show together and try to kick each other's ass musically, but not in the sense of messing with sound or anything like that, but in a friendly manner that will make both bands excel and push each other in a live setting, and that truly is what it's all about in the end. Bands that push each other musically to get better without being dicks to each other, it's a rarity but it does still exist.
SO that ends the chapter of Mo Rage, many great memories have happened there and many great lessons learned and in the end you learn from the good and you learn from the bad but either way, you learn and today I have learned that the method of communication is one of, if not the most important lesson to learn. To bad it happened the hard way. However, the ending is a good one because the most important thing is not the music, or the glory or anything else, but rather, that I didn't lose a friend out of this situation and that's something money can't buy.
As the ever famous rock band queen says "The Show Must Go On".
See you on stage with Archetype motherfuckers!
-Tony
7-31-2008
I just got off of the phone with a musician that has really influenced me, and that's Peter "Peavy" Wagner of Rage! I interviewed him once a long time ago but it was brief as he was at Progpower at the time and didn't have long to talk. This time we had an awesome conversation over the phone. I am really excited about this interview as it was just awesome! It's always an honor to interview any band on my show, but when it's someone that I consider a musical icon, it's even more of an honor. Peavy was really fun to talk to and when this interview finally airs you will understand why I am saying this! Great guy and great band.
I have also received a lot of great feedback on the Exodus interview this past week. In fact I had a buttload of callers from the west coast requesting Exodus songs. How awesome is that? In the past I mostly had locals here in Cleveland and people on the east coast calling me but this past week I had quite a number of calls from California, Arizona, and Nevada of all places. They say only a half percent of your audience actually calls. If this is the case....my god....I have a lot of listeners around the country!
7-22-2008
This past week's show was awesome! I had a lot of online listeners calling me who were checking out the show online. It seems I get more and more people listening online, sometimes even moreso than in Cleveland it seems. Lots of great reaction about Pharaoh's music and the interview. Hopefully this translates into some exposure and some CD sales for the band. Matt was a cool guy to talk to. The biggest comment that I received was that this is a band who should tour and play out. Anyway, the interview is in the Archive section of the website so download it and check it out!
7-12-2008
I have had quite a number of questions about a great many things after last night's show. All of the emails in support of the show are much appreciated and thanks for your awesome comments, but I do want to answer some questions. The first question is about requests. I get a lot of requests on each show, in fact I get more requests than I can play on the show. So getting to these is very difficult because when I am at the station I do more than just play music. There are numerous other things to be done from making sure certain legalities are followed per FCC rules as well as making sure public service programs and announcements are read and played over the air. Also, although I run my show with a laptop and I have a database of over 36000 songs, I still get requests for stuff that isn't in my computer's library and I have to go to the record library to find whatever request there is and that does actually take time even though we have a very well organized record library. ALso, although we do have an immense record library, there are times some bands that are requested aren't in the library.

I have also been getting a lot of requests for bands like Cannible Corpse and grindcore and black metal stuff. At the same time, I also get requests for glam bands like Poison. Now, while I don't dislike these groups, I can't make the show too diverse because even though I can go from listening to Deicide and Cannible Corpse to listening to a band say....like Def Leppard, almost all of my listener's cannot and therefore i have to give the show some focus and draw the lines somewhere. The format of the show is basically the first hour being music, the second being a featured artist's interview hour and the third is another hour of music. It's a very simple format that I follow and most of the listeners like this. I have actually had quite a number of emails saying that this past interview hour was awesome and that when they listened to the show in the past that they discovered new artists that way and that's what it's all about. I honestly don't care if the band I interview is some platinum selling artists or not. What i care about is whether they are good and I also go out and try to discover new artists to play on the show and to feature on the show. Anyway, if you have any questions EVER, you can email me at officermetal@metalcommand.net
7-8-2008
I just got off the phone with Zak Stevens, and WOW, what an awesome interview. We both didn't have much time to do it but we did get'er done. He talks a LOT about the new Circle II Circle album and tour plus some other stuff he has going on like TSO and his old band Wicked Witch! What really suprised me was that when I told him the showname and what city I was in, he actually remembered me! I couldn't believe it! It's like that time I walked into a gas station a few years back and I hear this voice say "Hey Tony, what's up?" I turn around and it's Bobby Blitz from OverKill. With all of the people these guys meet sometimes when they say they remember who I am I am shocked. I am currently listening to the newest Pagan's Mind album, what great stuff this is! Check these guys out at http://www.pagansmind.com Definitely some of the best original sounding stuff out there! I have also arranged a few more bands to appear on the show, more info soon!
7-7-2008
The first month back on the air has been a lot of fun. I have mainly held off on doing any interviews and airing them on the show simply because I wanted time to re acclimate myself once again with being on the air, after all it had been 4 years since I last ever did a radio show live. So far the responses from the listeners has been very good and very positive. Many of the old time listeners to the show have been calling in which is a great thing. I have also had quite a number of newer listeners who haven't even heard the stuff being played on the show before and these people have also been asking me questions about many of the bands being played on the show.
I sent out some feelers for who would be interested in coming back on the show for an interview. Roland Grapow was the first to respond back to me, I thought this was odd because I hadn't talked to Roland in almost 6 years! We used to be pretty good friends while he was in Helloween so it was cool to talk to him again. Masterplan is a pretty good band and the interview we did was pretty insightful and fun. I think all of you will enjoy it.
The show on July 4th was also pretty funny. I had a lot of interesting people calling me, mostly people who weren't exactly sober. I have been having a blast doing the show again. My plan is to take it to another level that it hasn't been at before. Sure, it's had it's days of having some of the biggest names in Metal on the show, but I want to take it further, to a place it's never been before. This website is actually part of that plan. I used to get phone calls back in the day all the time telling me that they missed the interview for the previous week's show and that people wished they could hear it somewhere. Or, I would get people who would ask me to replay an interview on the show. Now you can do both. I will be archiving all of the interviews on the show from now on here on the website. I am also going to be going back through the entire life of the show and putting up interviews from the show's past. This will be a feat since most of the interviews are on cassette tapes and I have to manually record them into my computer for editing. Back in the day, I used to record them through a Mackie 32 channel board into a Tascam Minidisc player and I would do ALL of the editing on a minidisc player. Pretty cool eh? It was very time consuming back then but it was the closest way of digital editing back then.
Now it's a lot different since I have my own studio here at home. I can do all of my editing here at my house using Pro Tools and Samplitude Pro. There are some great interviews coming up on the show. Next week it will be Matt Johnsen of Pharaoh. Their new album is just GODLY! I have listened to it nonstop since I received my copy of this disc. Very good stuff! Very refreshing to hear this type of music coming from an American band. It's too bad they don't get more recognition. After that I have several interviews either recorded or planned…..Gary Holt of Exodus, Mike Olivieri from Leatherwolf, Michael Kiske, and Zak Stevens of Circle II Circle. I have other interviews planned as well but I don't want to jinx myself announcing them until they are confirmed. Anyway, check out this week's edition of the show where we will be featuring Roland Grapow of Masterplan!
Questions? Comments? Flames? Email them to officermetal@metalcommand.net